If you live in or near Portland, Oregon, you probably know that Labor Day weekend is Art in the Pearl weekend–held on the North Park Blocks in the Pearl District.
Unless you happen to have a cottage on the Oregon Coast, there's no better place to be on the last weekend of summer than smack dab in the center of town with the liveliest, most creative group of people you are likely to meet anywhere.

You'll be high on the art and the music for weeks. In fact, I can't stop humming Kentucky Blue by songwriter Andy Concalves  who crooned song after original song from center stage on Sunday afternoon. You'll be humming it too after watching our first ever YouTube video:

Art in the Pearl is a grassroots movement that began its illustrious 18-year run on August 30, 1997 on the North Park Blocks of Portland's Pearl District. It's still hosted on the North Park Blocks today.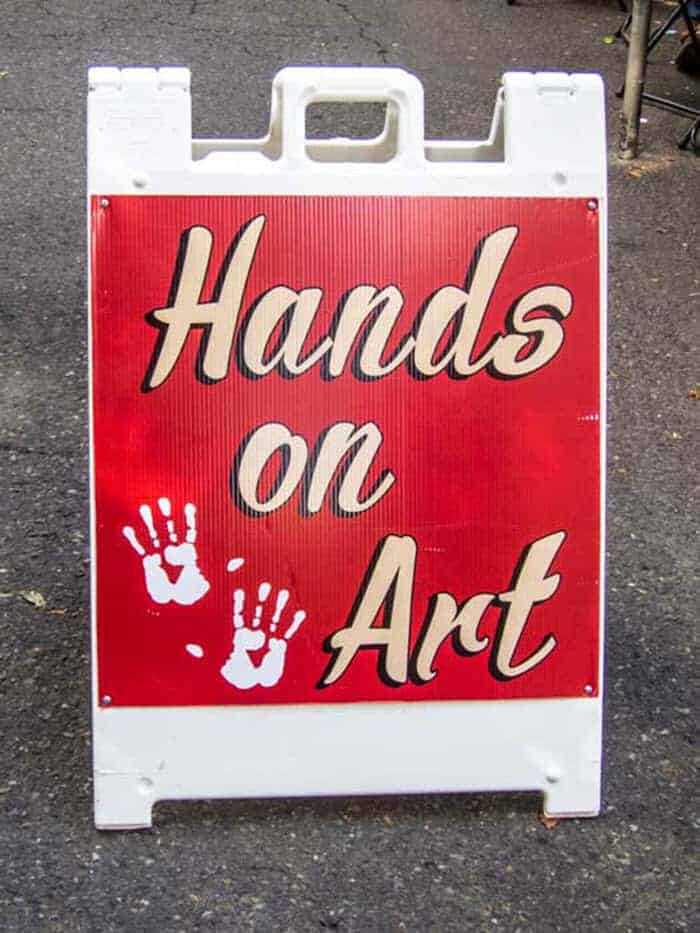 The yearly Labor Day weekend event is orchestrated by scores of volunteers and supported by dozens of local donors. It's truly a labor of love.
The focus is on building a bridge between artists and the community. There is no admission fee, quality control standards are high, and only original work is accepted. Even dogs love this show.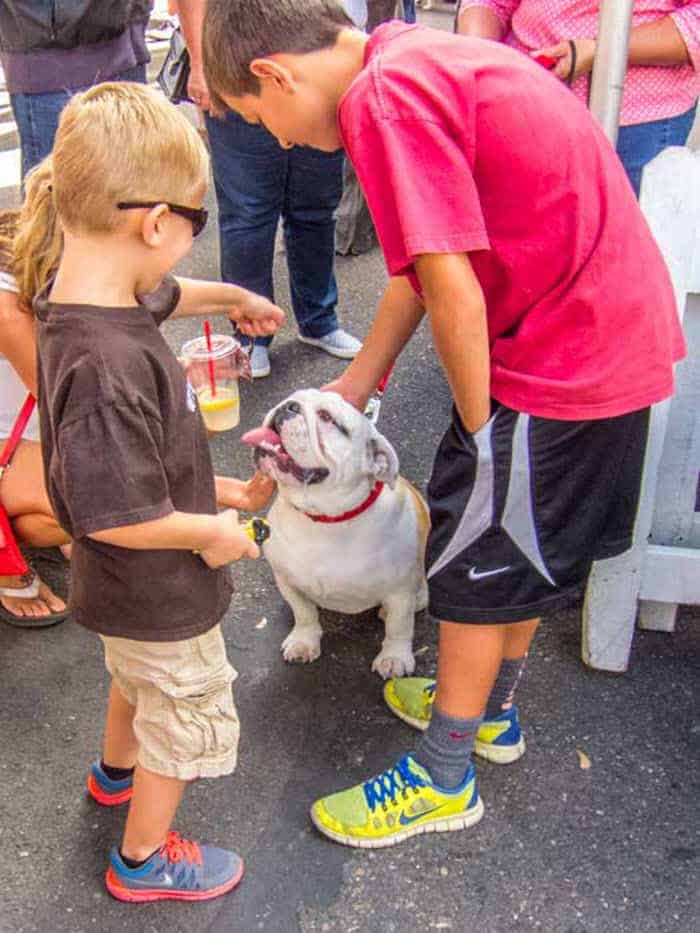 Also, for the first time, Art in the Pearl launched the Songwriters Stage, a big plus for show goers.
The artists chosen to display their work for the 2014 show work across many disciplines, including mixed media, ceramics, digital, drawing, fiber, glass, clothing, jewelry, metal, painting, photography, printmaking, sculpture, stone turning, and woodworking. The quality of the work represented this year was exceptionally high.
Art in the Pearl 2014: Best of Show Awards
Lisa Burge for her explorations in color and line in both paintings and monoprints.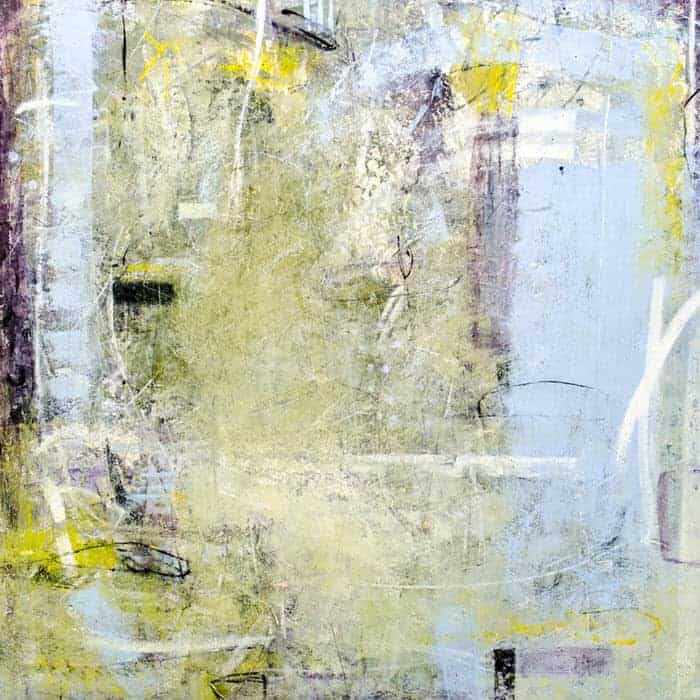 Ann Munson of West Linn, Oregon for her mixed media, dimensional landscapes.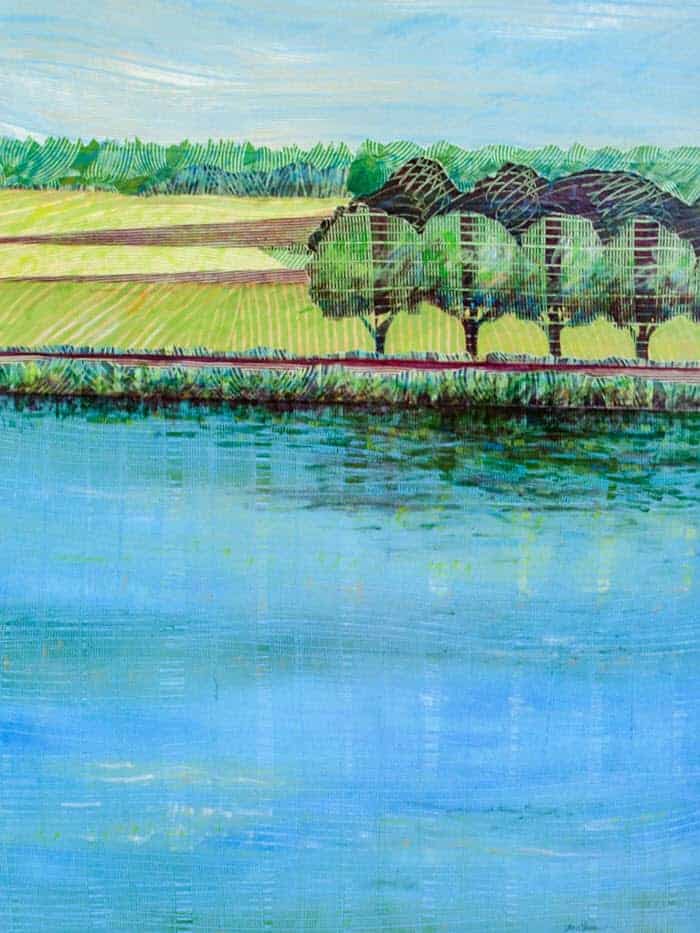 Patty Roberts of Marysville, Washington for her luminescent, glass kiln cast vessels and forms.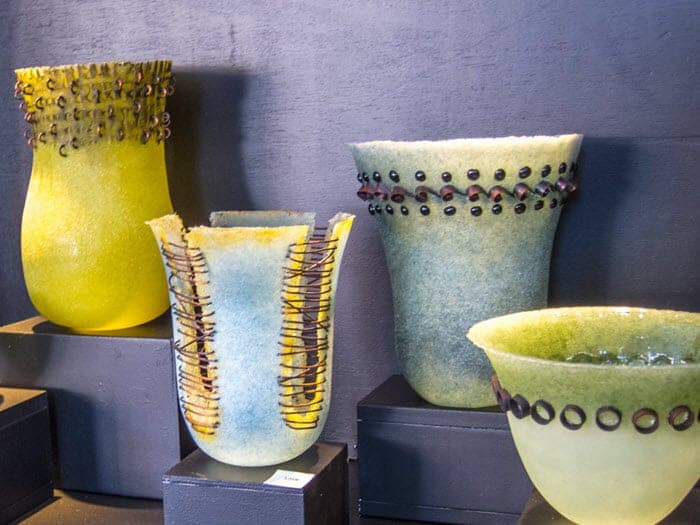 It's hard to pick favorites when a show is this well curated, but of course some works just affect us more profoundly than others. This year, I was particularly moved by the work of the following artists.
Art in the Pearl 2014: My Faves
Barbara Campbell of Corvallis, Oregon with her quirky, playful ceramic vessels and figures.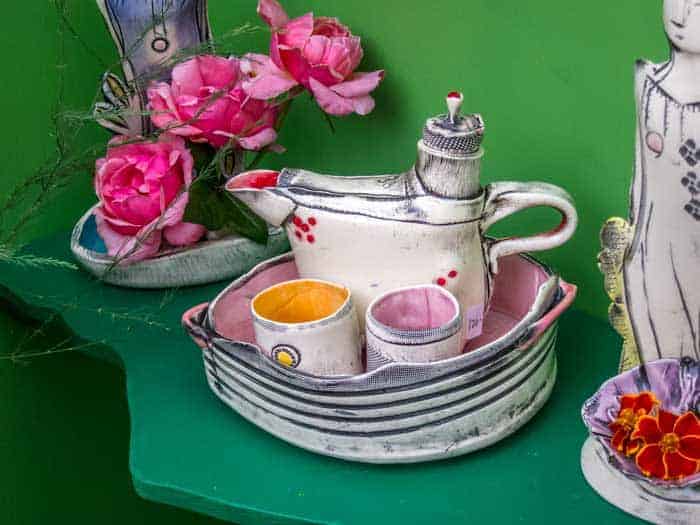 Ann Fleming of White Salmon, Washington for her mythical, narrative bronze sculptures.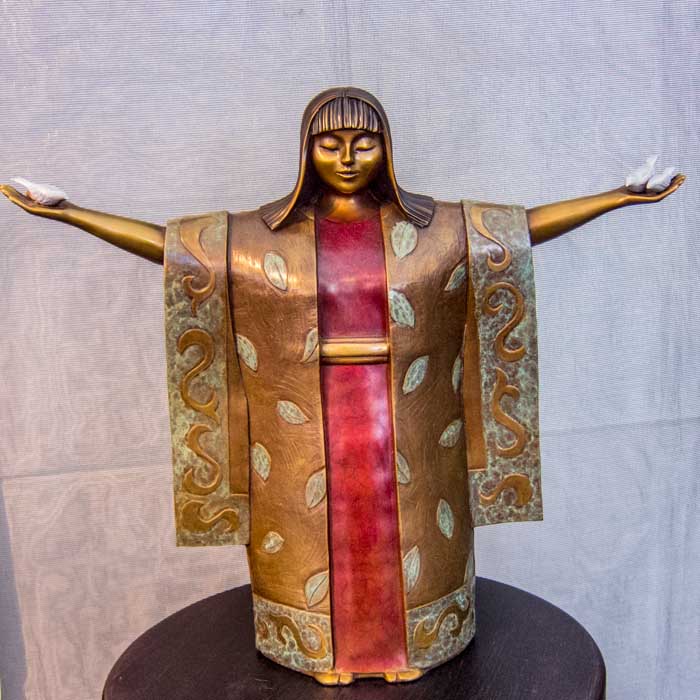 Gia Whitlock of Sellwood, Oregon for her lush, flora-inspired paintings.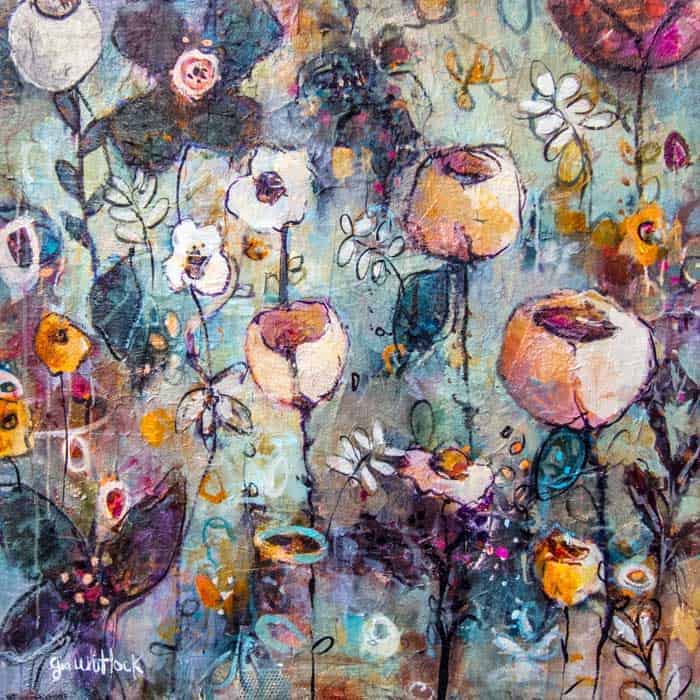 Shelley Martin of Portland, Oregon for her restrained, ultra-modern ceramic vessels.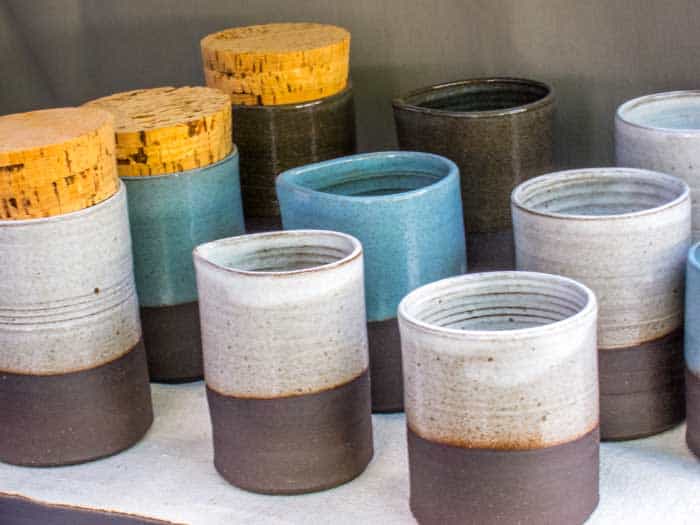 Judy Stone of El Cerrito, California for her ethereal, evocative enameled pieces.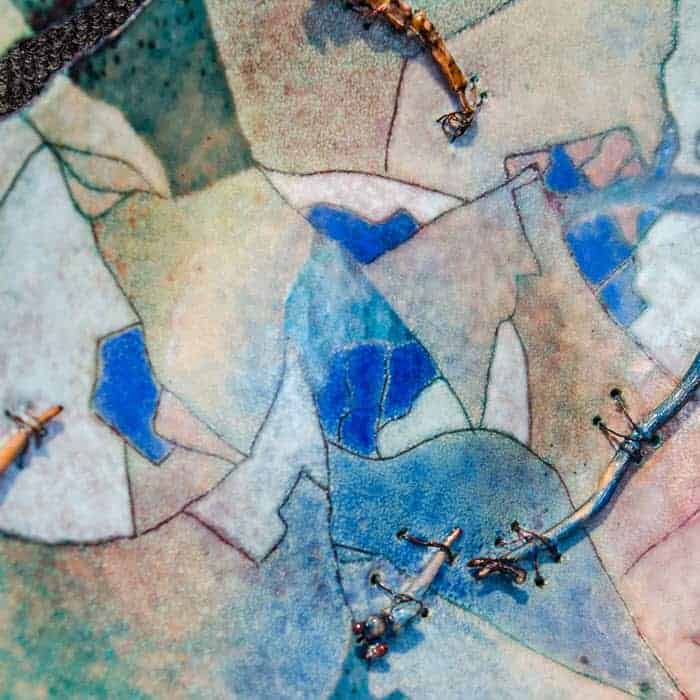 Linda Heisserman of Bend, Oregon for her poetic, carved porcelain pieces.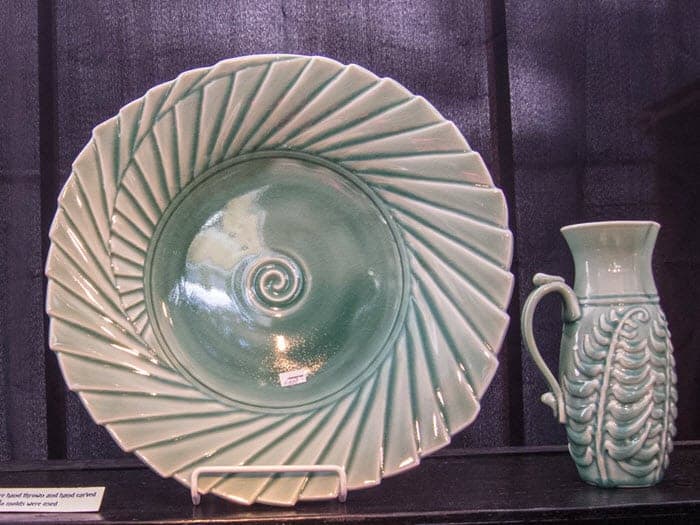 Diane Culhane of West Seattle, Washington for her magical, narrative paintings.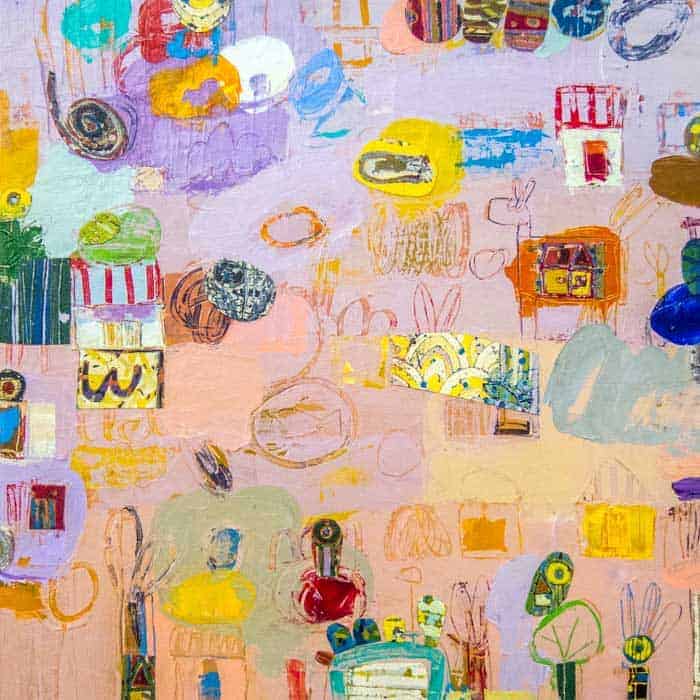 Gayle Roche of Watsonville, California for her architectural, pieced leather purses.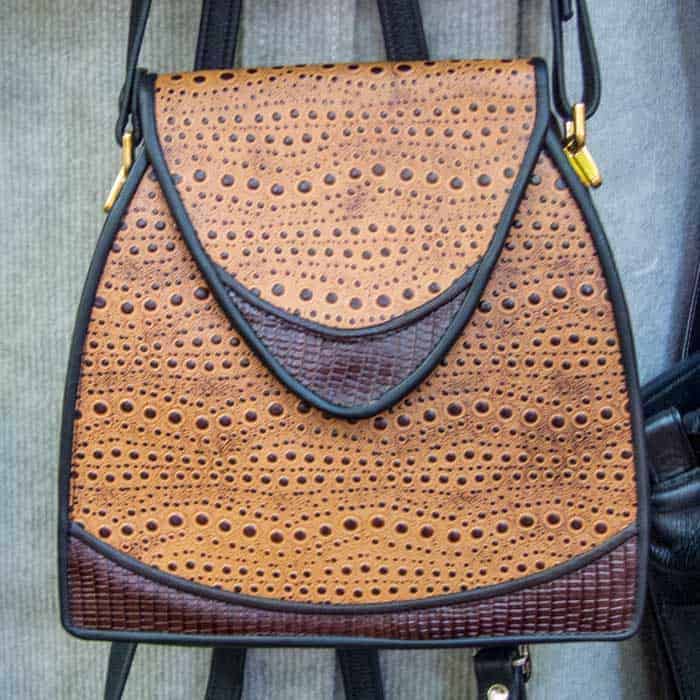 Robin Hominiuk of Ridgefield, Washington for her evocative, tactile ceramics.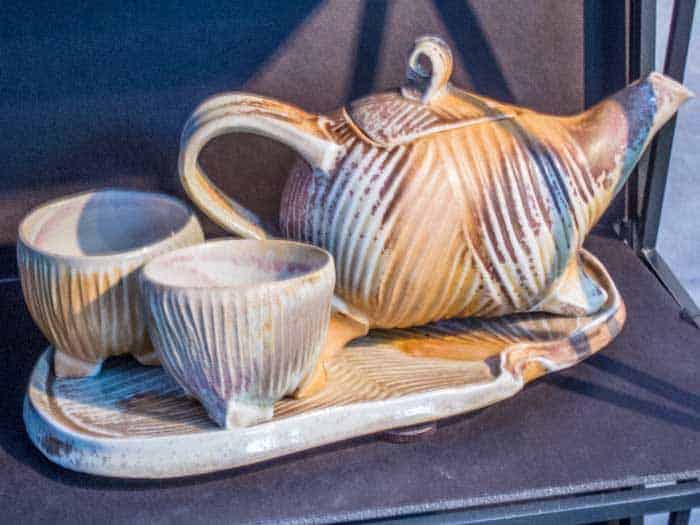 Brian O'Neill of Bellingham, Washington for his nature-inspired, sculptural vessels.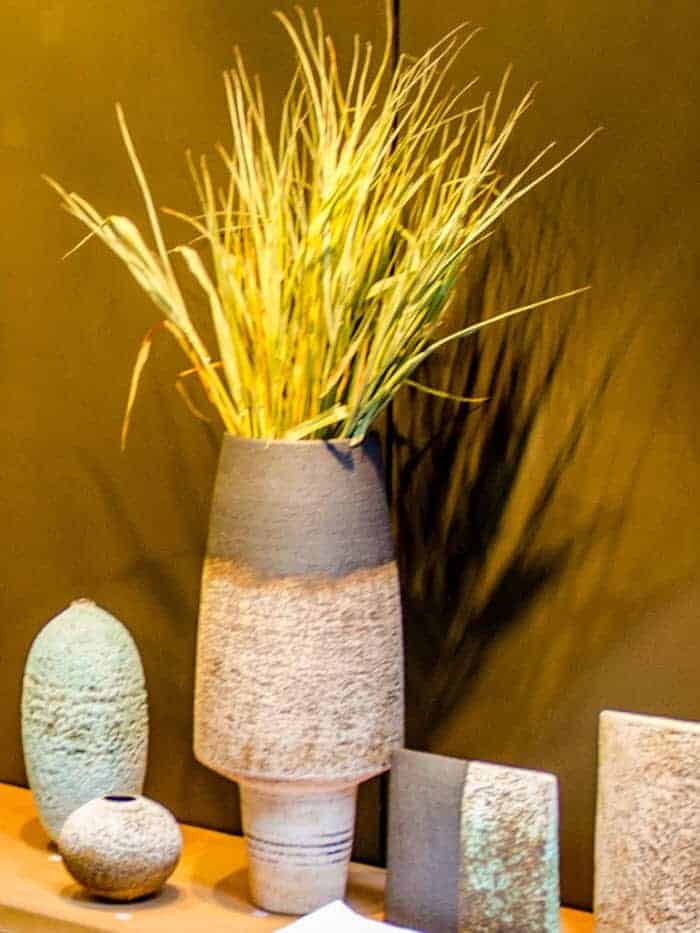 Seung Lee of Cathedral City, California for his sumptuous woodblock print collages.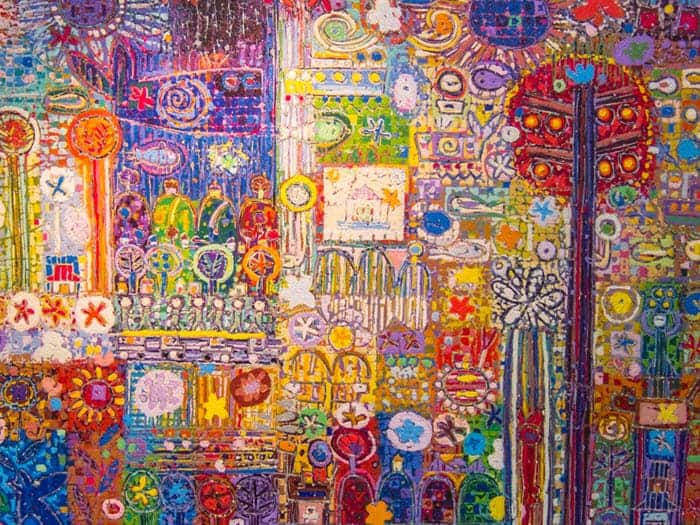 And finally, on our walk home from the show, we ran into this apropos (slightly blurry) quote on a shop door.
In case you can't read it, it says, "I have been looking for a definition of what art is all my life, without fully understanding exactly what it encompasses. I found one by Horace, who was a critic and poet back in Roman times. He had this great great line. He said, 'The purpose of art is to inform and delight.' and I thought wow, you can't get much better than that."