The first time we set foot on Sauvie Island–a beautiful fall day, many moons ago–we were transfixed.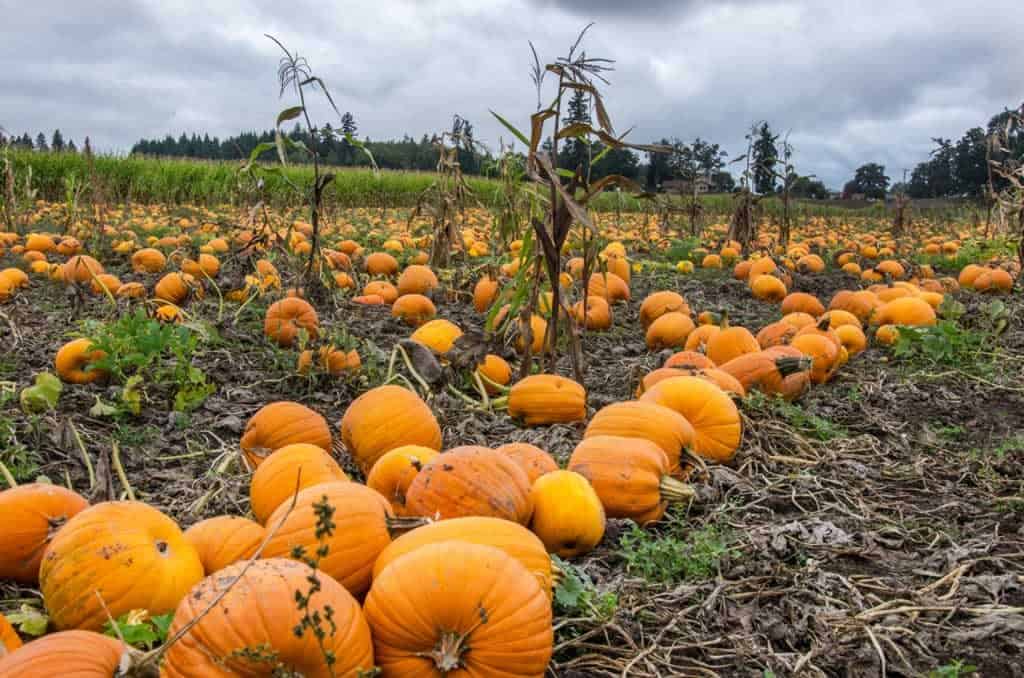 We were just a few minutes from downtown Portland, still in Multnomah County, within Portland city limits. Then why did it seem as if we were in another world entirely?
A magically transporting world of winding country roads flanked by fields of roses, corn, cabbage, berries, apples, peaches, grapes, and pumpkin. A world of lowland marshes, rivers, lakes, and long stretches of sandy beach.
Enormous flocks of birds in the air and on the water–American coot, American kestrel, Canadian geese, bald eagle, golden-crowned sparrow, least sandpiper, long-billed dowitcher, great blue heron, greater yellowlegs, green-winged teal, killdeer, mallard, northern harrier, northern pintail, northern shoveler, red-tailed hawk, sandhill crane, tundra swans, western sandpiper.
---
---
And something else that was initially hard to define.
Ah yes—STILLNESS. Empty beaches, a lone kayaker gliding through the channel, a faint rustling in the trees, a feeling of solitude. And the reassuring smell of warm earth. This is why we came.
This is why we come again and again. To reconnect with nature and ourselves. To leave the city behind for a few precious hours.
Sauvie Island in a Nutshell
Sauvie Island is the largest island along the Columbia River and one of the largest river islands in the United States. The island sprawls across 24,000 acres—about 15 miles long and four miles wide.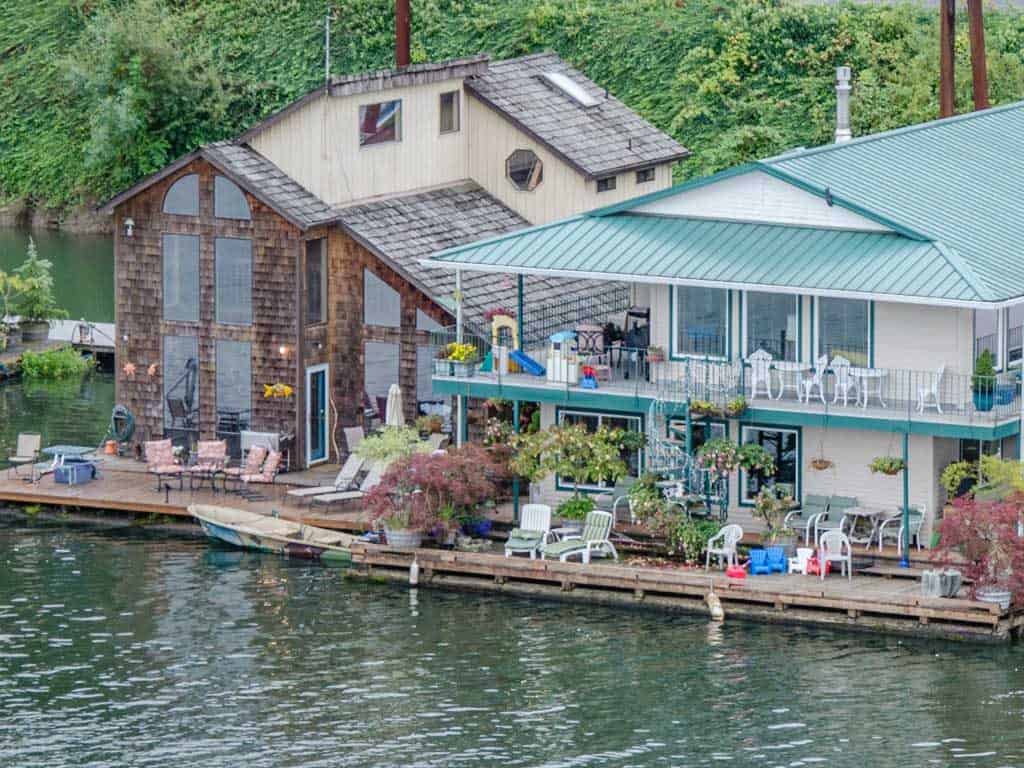 Sauvie Island is flanked to the west by Multnomah Channel and to the east by the Columbia and Willamette rivers.
The northern half of the island is owned by the Oregon Department of Fish and Wildlife and is managed as the Sauvie Island Wildlife Area.
The lakes (Sturgeon Lake, Steelman Lake, Mud Lake, Crane Lake, Aaron's Lake, McNary Lake, Virginia Lake, Wagonwheel Hole) and low lying marches are a major stop on the Pacific Flyway and a bird-watcher's paradise. They also attract kayakers and hikers.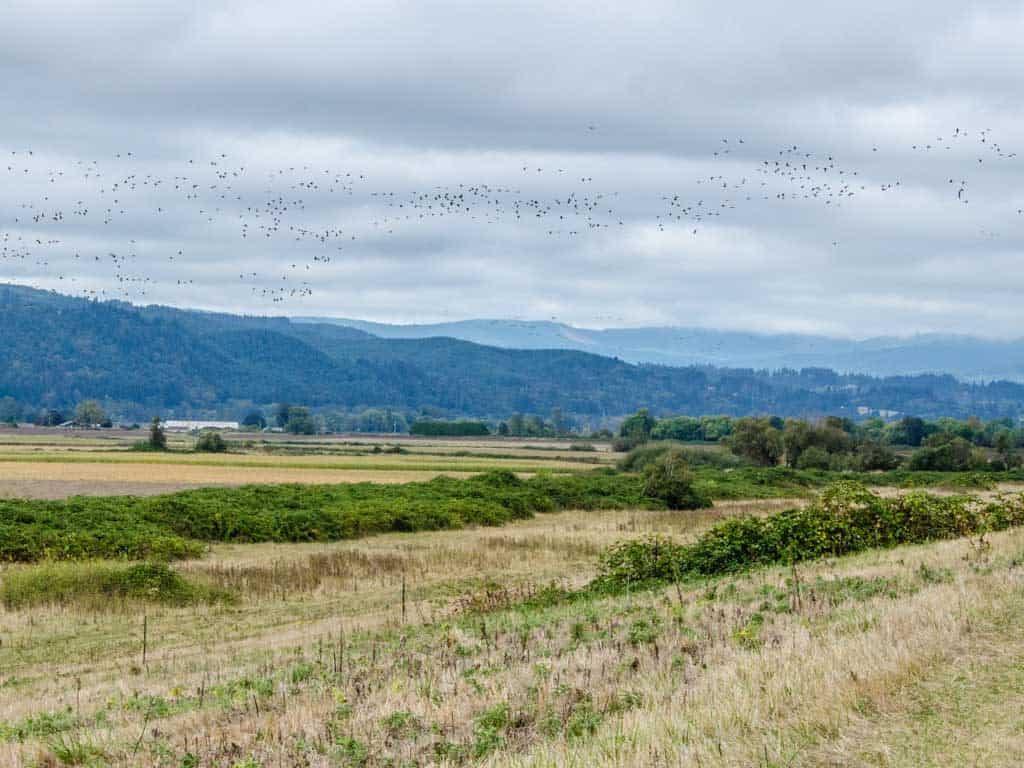 The southern half of the island is farmland as far as the eye can see, punctuated with farm markets, u-pick farms, and acres of roses, cornflowers, zinnias, dahlias, pumpkin, cabbage, apples, peaches, grapes, and corn in late summer and early fall. In the southeast corner, near the bridge, there is an industrial zone and small grocery store.
With only 445 households, Sauvie Island feels cloistered and tranquil much of the time—a world removed. However, in the summer and early fall, the island is often swarming with visitors. It's estimated that 1½ million people visit Sauvie Island each year.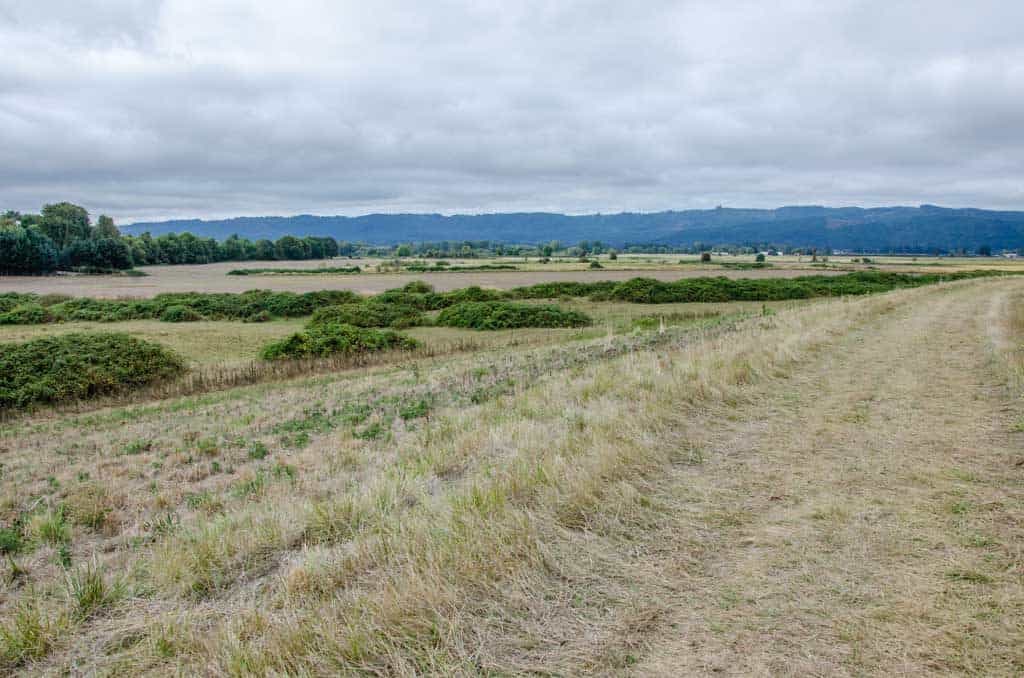 A Few Tips for the Road
Gas There are no gas stations on the island. Be sure to fill your tank before you cross the bridge.
Map Check out the island map in the parking lot at the base of the bridge. Also, if you plan to tour the beaches, grab a parking permit at the nearby store.
Parking Permits Sauvie Island Wildlife Area parking permits are required on all Sauvie Island beach roads and can be purchased at either of the island's two stores–Reeder Beach RV Country Store or the Cracker Barrel store at the base of the Sauvie Island Bridge. Daily permits and annual permits are available.
Public Restrooms Porta-potties dot the island landscape and are plentiful along the beach roads.. Most of the farm markets provide restroom facilities as well (in season). The Sauvie Island boat ramp, a Portland Metro Park on Multnomah Channel, features a public restroom facility. Here's a map.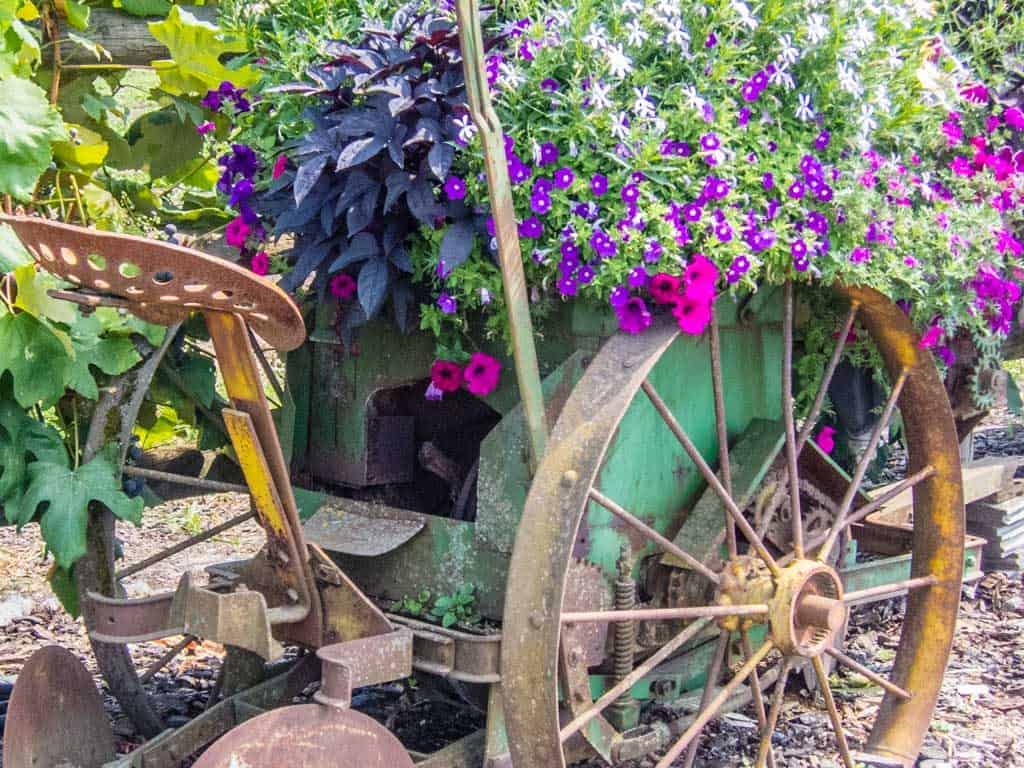 10 Reasons We Love Sauvie Island
1. Sauvie Island Bridge
There's only one way to cross the Multnomah Channel to Sauvie Island by car, bike, or foot—the Sauvie Island Bridge. It's a lovely crossing with a beautiful view.
The first bridge to Sauvie Island opened in December 1950, replacing the Sauvie Island Ferry. The main span of the bridge was 200 feet long and 41 feet wide, with two traffic lanes and sidewalks on both sides. It sat 80 feet above the channel.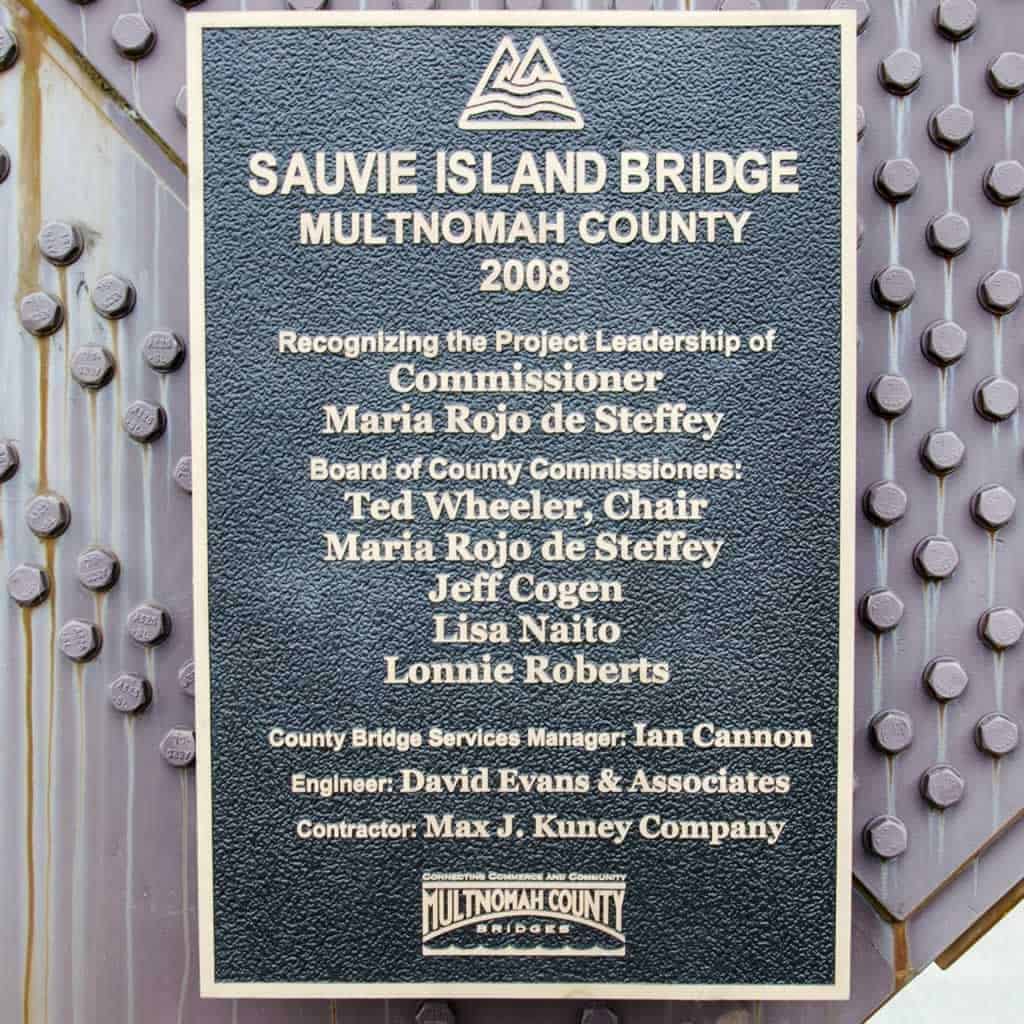 After cracks were found in the span in 2001, weight and speed were restricted while planning began for a new bridge. The main span of the new bridge is 360 feet long and 66 feet wide, with two traffic lanes with shoulders and sidewalks on both sides. It sits 80 feet above the channel. The new Sauvie Island Bridge opened in June 2008.
2. Pastoral Landscape
We love living in the city but need to recenter every couple of weeks in a more tranquil, natural setting, preferably surrounded by water. Only 10 miles and 20 minutes from downtown Portland, the world changes on the other side of the Sauvie Island Bridge. It's predominantly pastoral farmland and wildlife refuge, edged with long sandy beaches.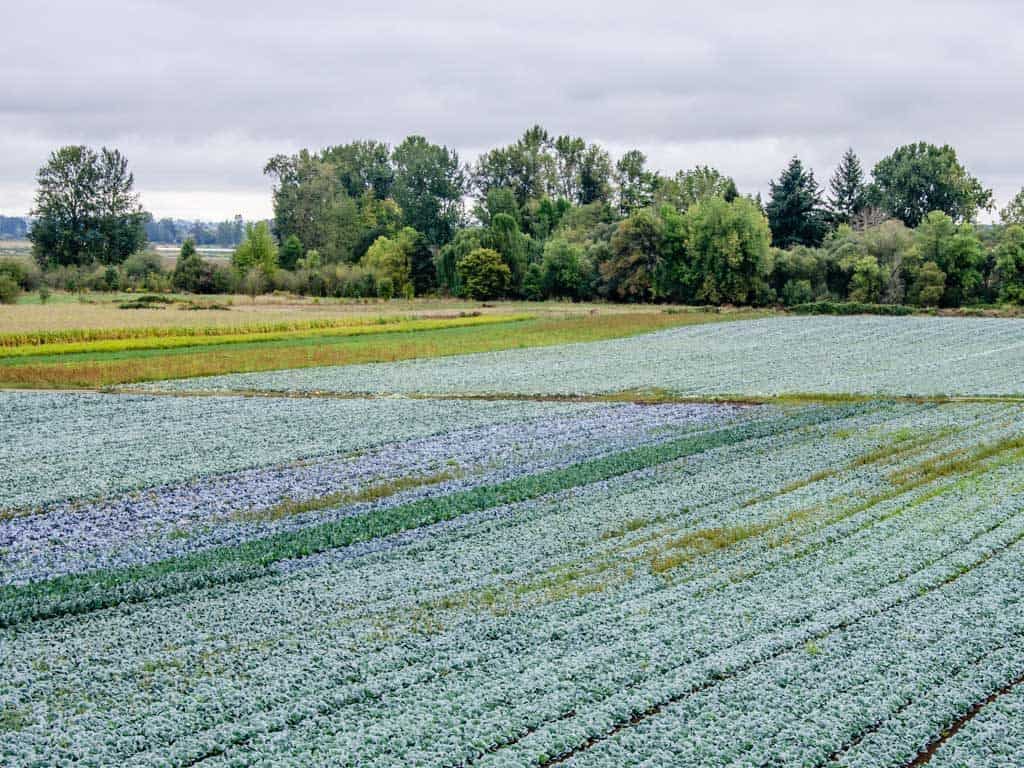 After you tour the farm markets, mosey on over to one of several beaches (careful, some beaches are clothing optional) and hang out for a while.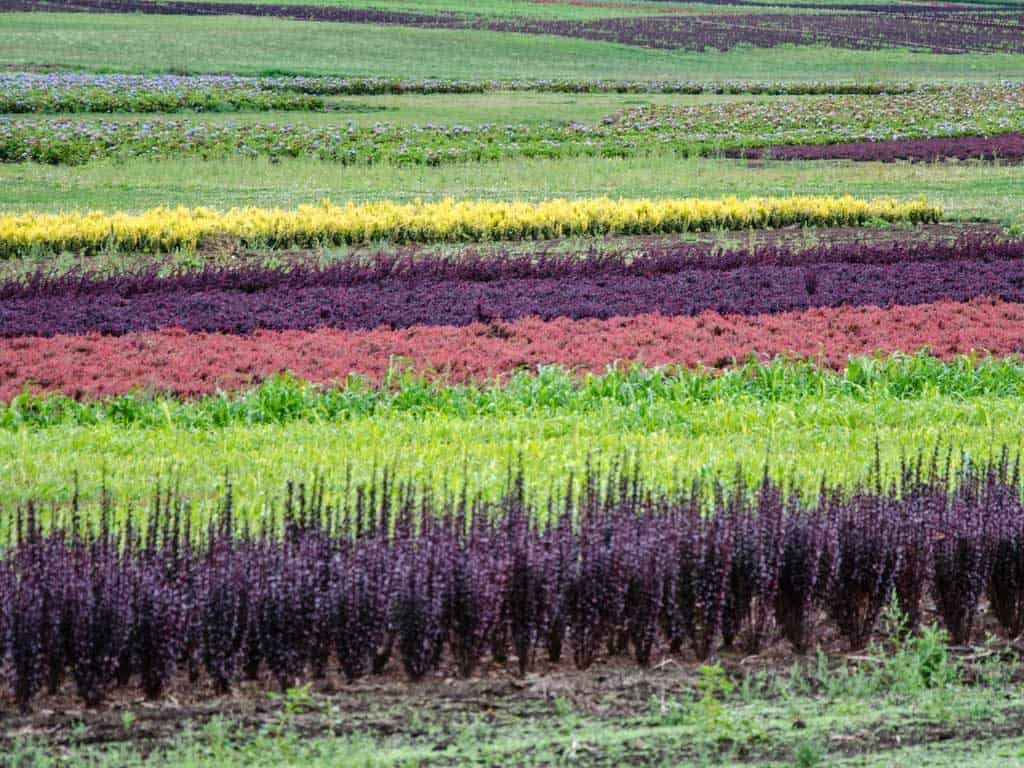 I often pack a picnic (ciabatta from Ken's Artisan Bakery, salami cotto from Olympia Provisions, creamy chèvre from Tumalo Farms, red bell pepper and ancho chile jam from Earth & Vine Provisions, olives, cornichons) and bring a good book. Life slows down and the hustle-bustle of the city seems far, far away.
3. Farm Markets
If you need an excuse to convince your significant other to head to Sauvie Island for the afternoon, try the, "It's so much cheaper" tactic. My significant other's ears always perk up when he hears those magic words. The seasonal produce sold at the island's farm markets can be significantly less expensive than in town.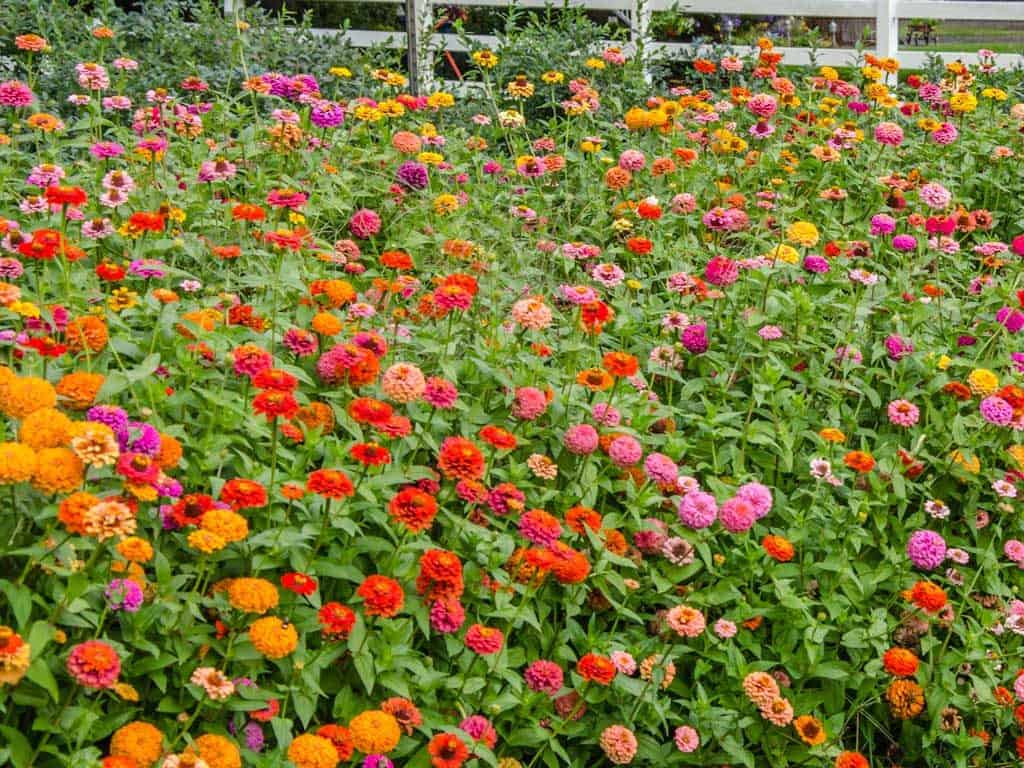 If you plan to buy a box or two of peaches, apples, pears, or berries, Sauvie Island is the closest destination I know to get a really good price. (Hood River is great too, but entails an hour drive each way.)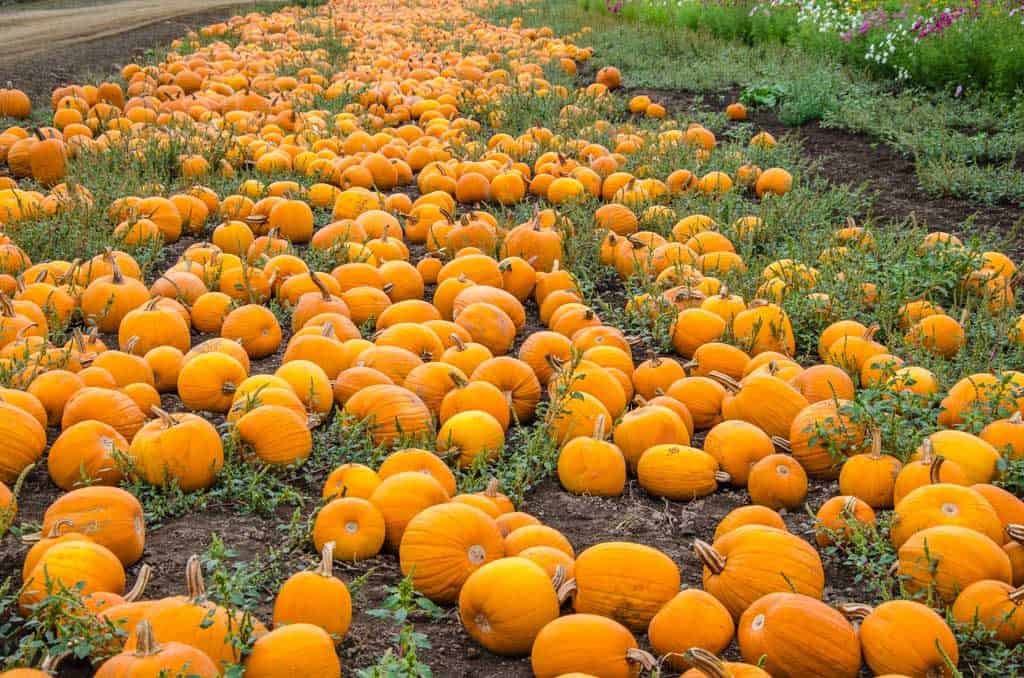 We always stop by Bella Organic Farm, The Pumpkin Patch, Columbia Farms, and Kruger's Farm Market to compare prices, grab a nosh, and take in the general festivities.
Columbia Farms (u-pick berries, tomatoes, pumpkins)
Sauvie Island Community Association
4. Fall Fun
If you can only make it to Sauvie Island once or twice a year, choose fall. This is the crazy-fun time to be on the island, especially with kids in tow. If you dislike crowds, go early in September. The number of visitors increases with each passing week until the last day of October.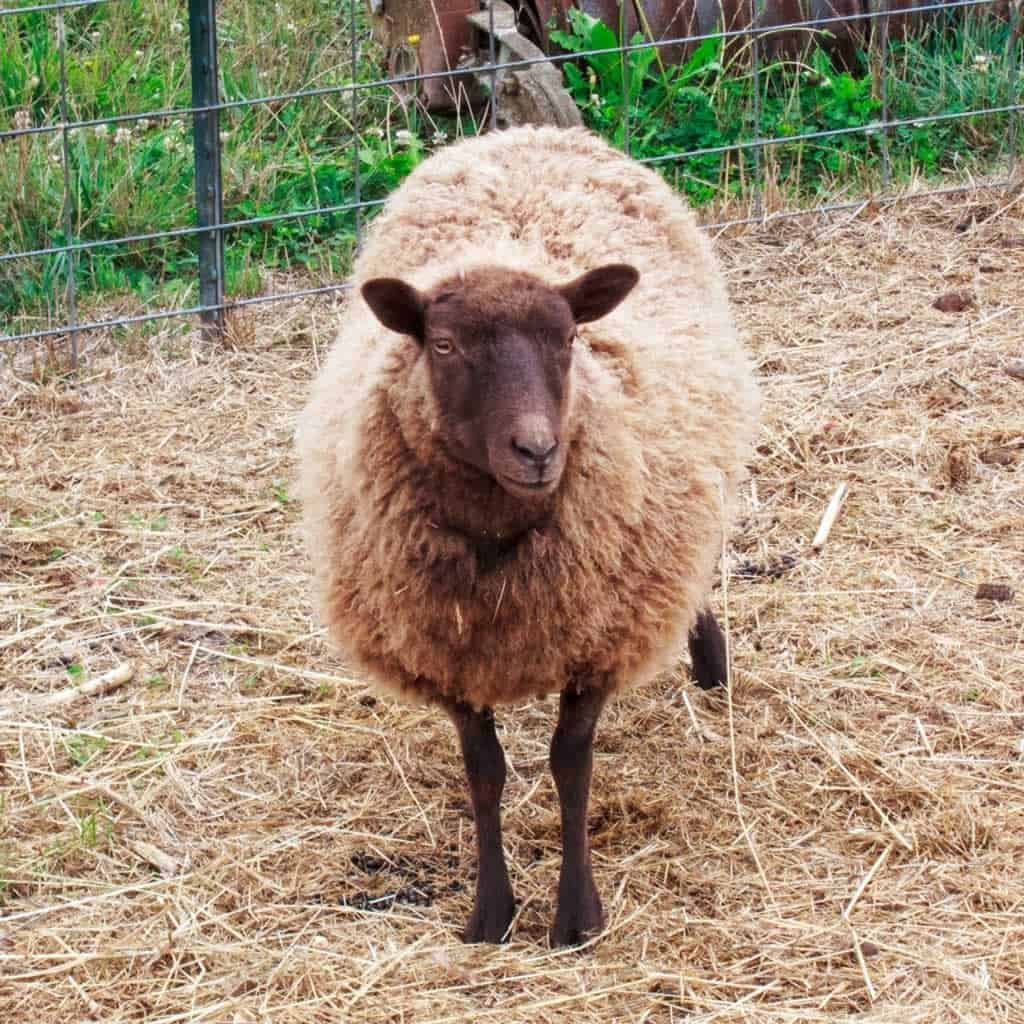 Why? Because festivities are all about the fall harvest and Halloween: corn mazes, pumpkin patches, hay rides, grain trains, spooky stuff, farm animals, costume contests, apple cider demos, duck races, cow trains, face painting, and other trappings of the season.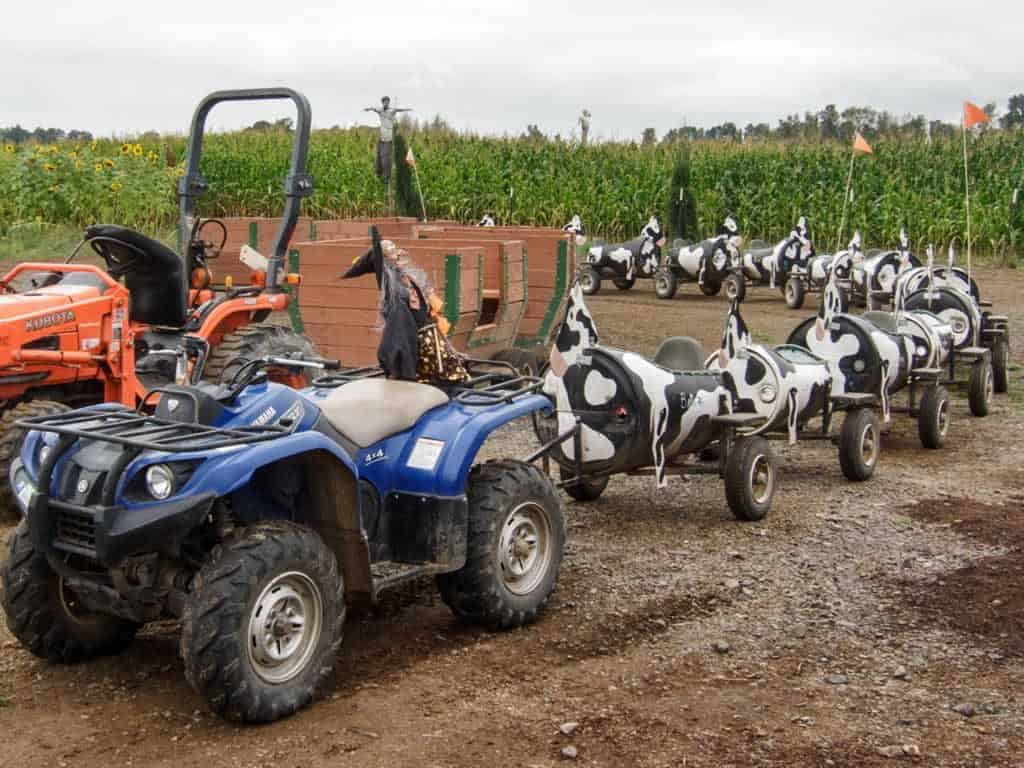 Kids are encouraged to come in costume on the weekends. Pumpkin harvest begins the last week of September. Caramel apples, anyone?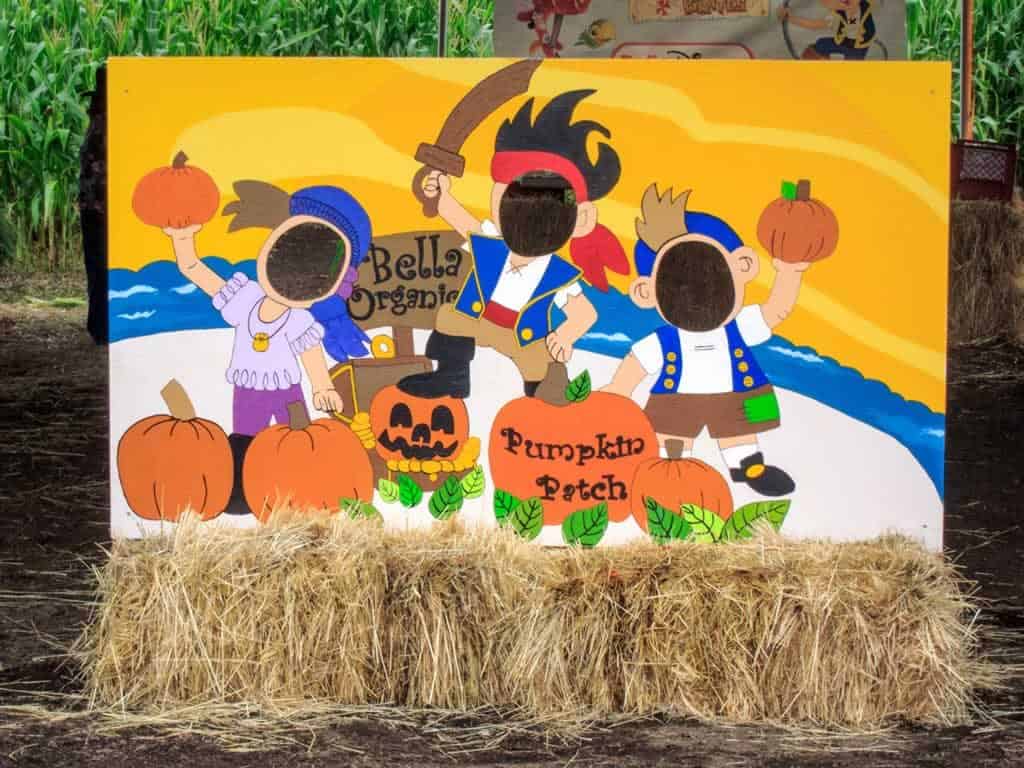 5. Corn Mazes
If you love being completely lost in fields of high corn and exhausting yourself trying to find a way out (and seriously, who doesn't?), you're going to experience the ultimate in frustration and desperation in these not-for-scaredy-cats Sauvie Island corn mazes.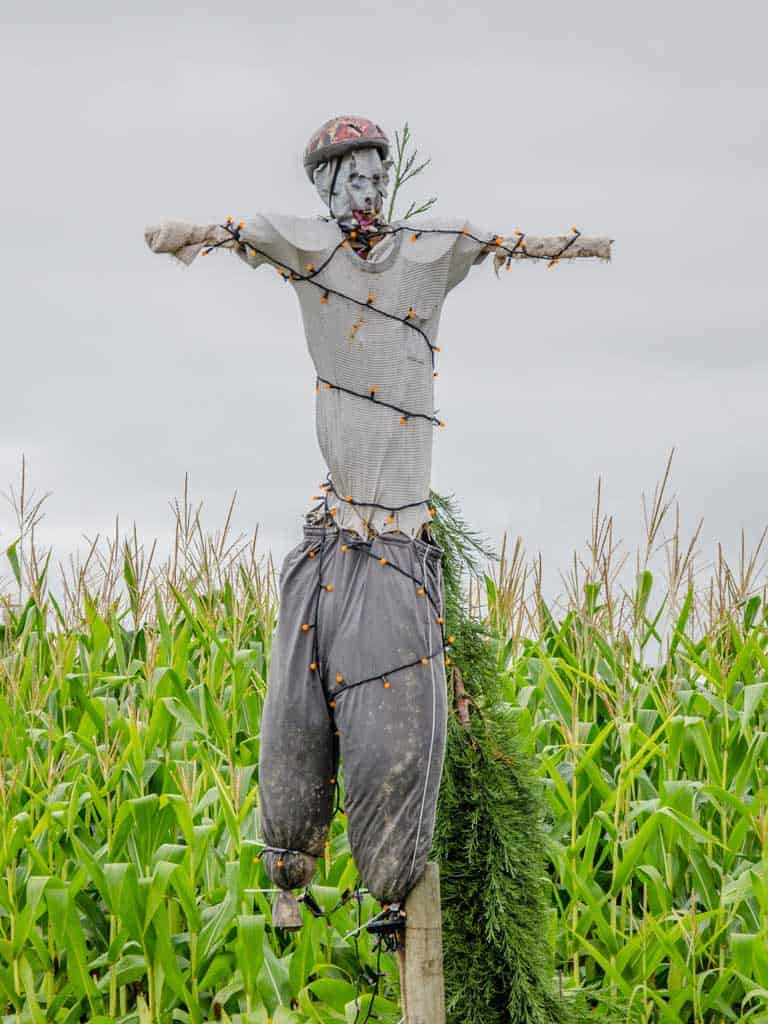 The MAiZE (The Pumpkin Patch: Labor Day-November 1st)
Twilight Maze (Bella Organic: September 26–October 31, Friday & Saturday Nights)
Corn Maze (Bella Organic: August 30th-October 31st)
Haunted Maze (Bella Organic: August 30th-October 31st)
Corn Maze (Krueger's: Mid-September-October 31st)
Corn Cabaret (Krueger's: Mid-September-October 31st)
6. Pumpkin Patches
There's nothing like selecting your own pumpkins from the field in which they are grown. And the prices can't be beat. This year, Columbia Farms has a top price of $6.00 for any pumpkin in the field. And many of these are too large and too heavy for one person to lift. They would cost a fortune if you were paying by the pound.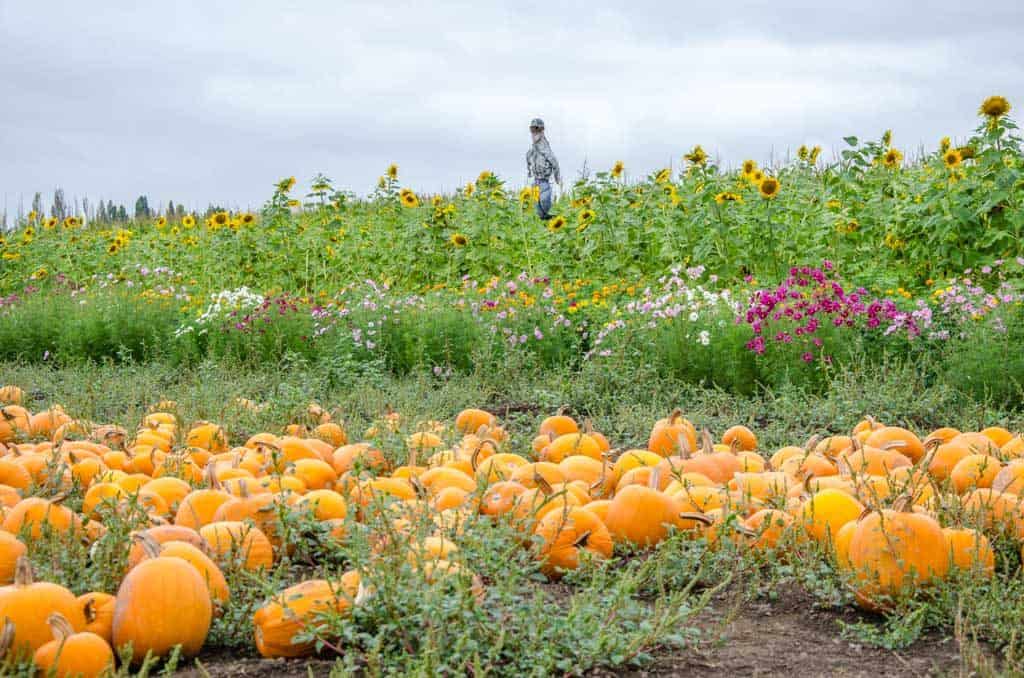 Besides adventure, fun, and savings, the other upside to visiting a pumpkin patch is the large variety of pumpkins being grown.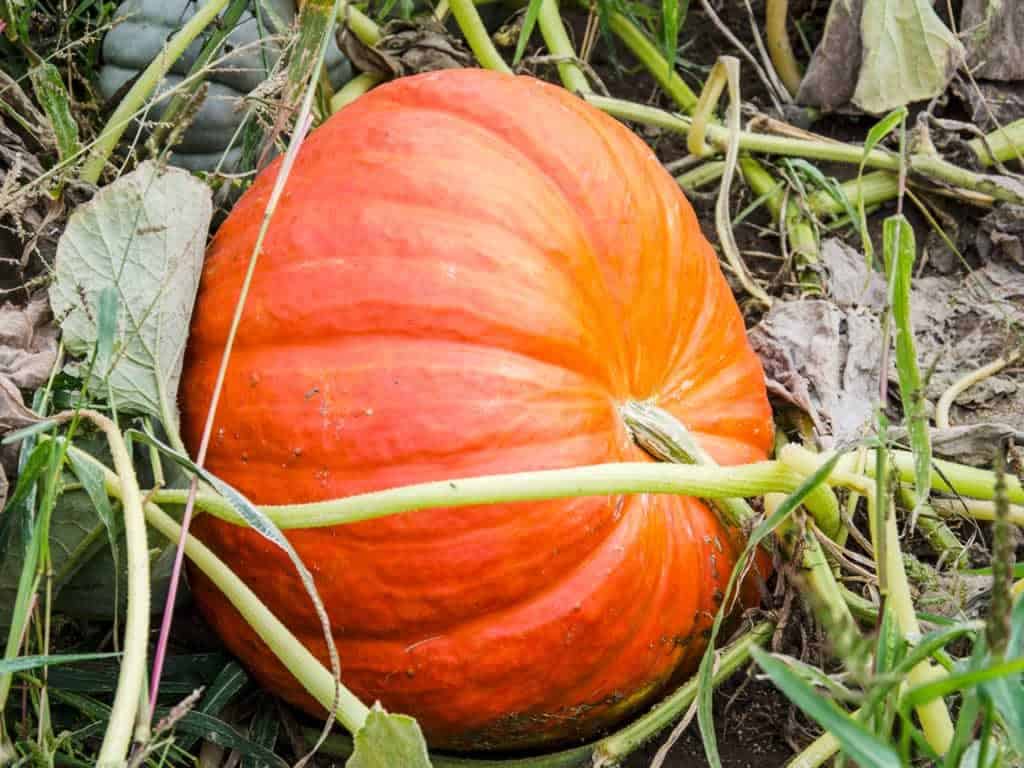 On our visit this year to the pumpkin fields at Columbia Farms, in addition to the typical Halloween pumpkin, we spotted Cinderella pumpkin, Gateaux d'Eysines pumpkin, Jarrahdale pumpkin, Long Island Cheese pumpkin, and Lumina pumpkin. We're mixing our Halloween display pumpkins this year. Try it.
7. Biking
Flat topography and scenic country roads draw hordes of cycling enthusiasts to Sauvie Island each year. If you're a cyclist, this is the best way to experience the island. However, there are no bike lanes, and thus cyclists must share the two-lane roads with cars.
Cyclists should ride single file to allow cars to pass without crossing into oncoming lanes. Be on the alert for passing cars, slow-moving farm equipment, crops extending onto the roadway, steep drop-offs on the side of roads, and lack of road shoulders.
The most popular ride is the 12-mile loop around the lower end of the island, comprised of Sauvie Island Road, Reeder Road, and Gillihan Road. When you get to the island, check out the island map in the parking lot at the base of Sauvie Island Bridge.
8. Kayaking
Sauvie Island is surrounded by beautiful waterways, beckoning kayakers of all skill levels. Be aware, however, that both the Multnomah Channel and Colombia River have significant boat traffic, including barges, sailboats, power boats, and on the Columbia River, ocean-going container-ships. Only experienced kayakers should venture into these potentially dangerous waters.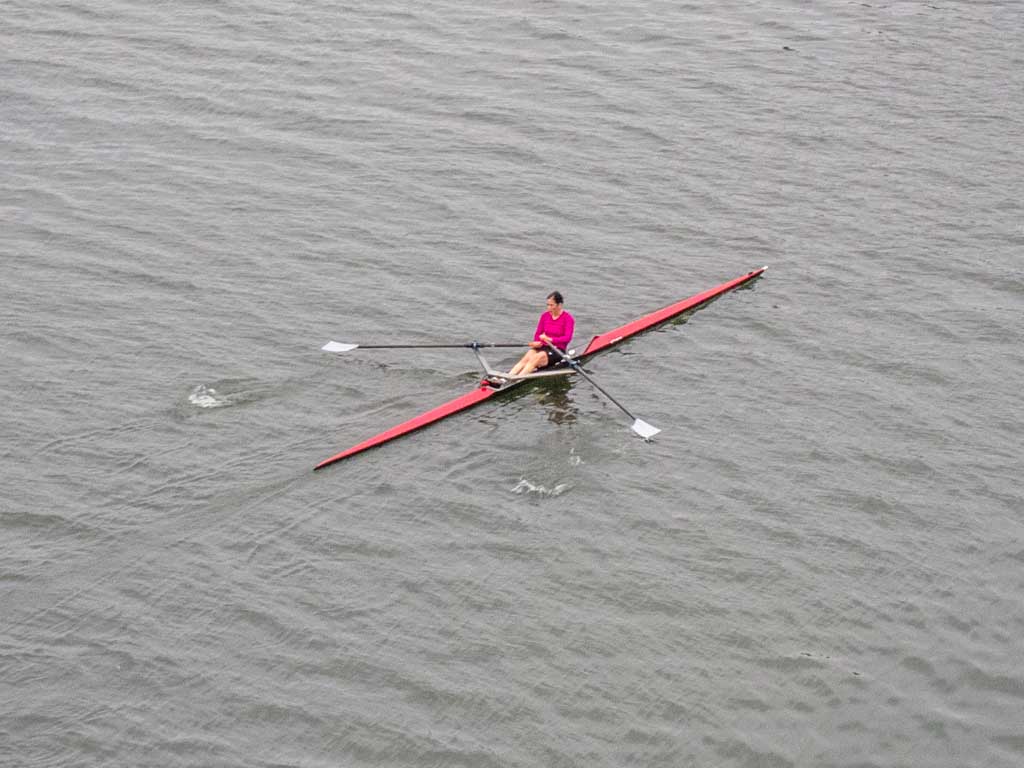 Safer, more novice kayaking options include Sturgeon Lake on a windless day or Cunningham Slough. And it goes without saying that ALL kayakers should wear an approved life jacket while on the water. Kayakers should also take care not to disturb waterfowl and other bird or wildlife nesting areas that are near the beaches or on top of piers and pilings.
9. Floating Homes
There's something magical and slightly counter-culture about a floating home. Even though these homes are securely anchored in a waterside neighborhood alongside other floating homes, there's still the feeling that you could lift anchor and just drift on down the river. Right? Or is it just me who has these fantasies?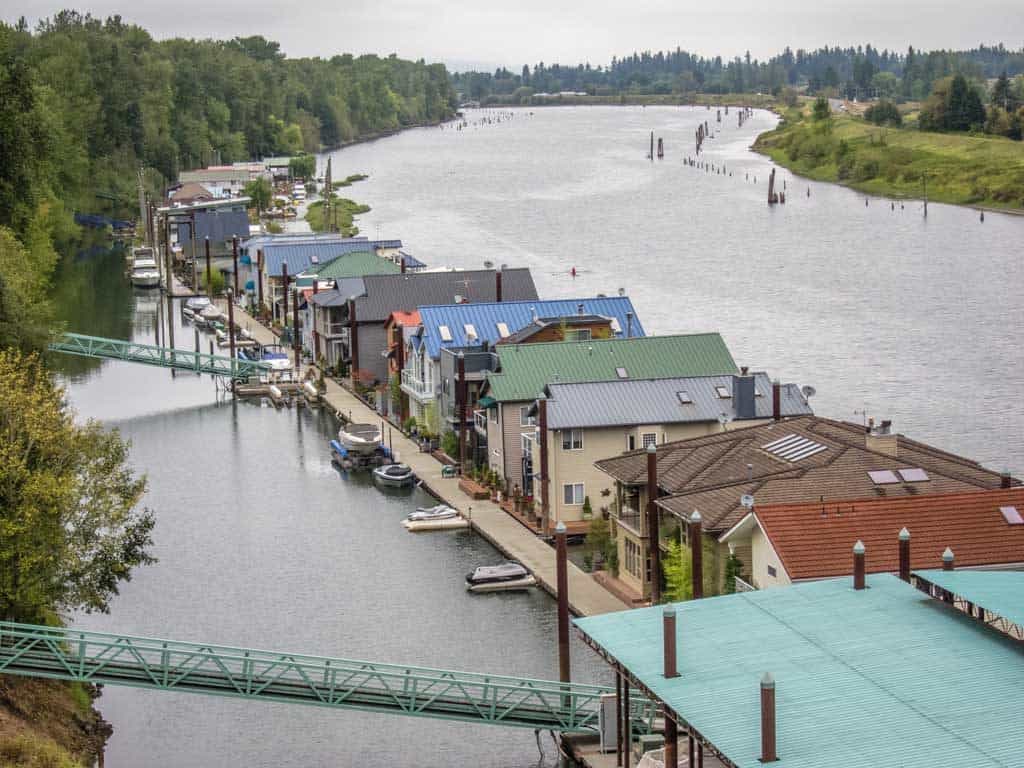 10. Sauvie Island Beaches
Sauvie Island features a long stretch of sandy beach along the crystal blue, icy cold Columbia River. And unlike the Oregon Coast, you don't have to drive 70+ miles to get to the water. Just minutes from downtown Portland, Sauvie Island beaches are about 9 pastoral miles from the Sauvie Island Bridge crossing.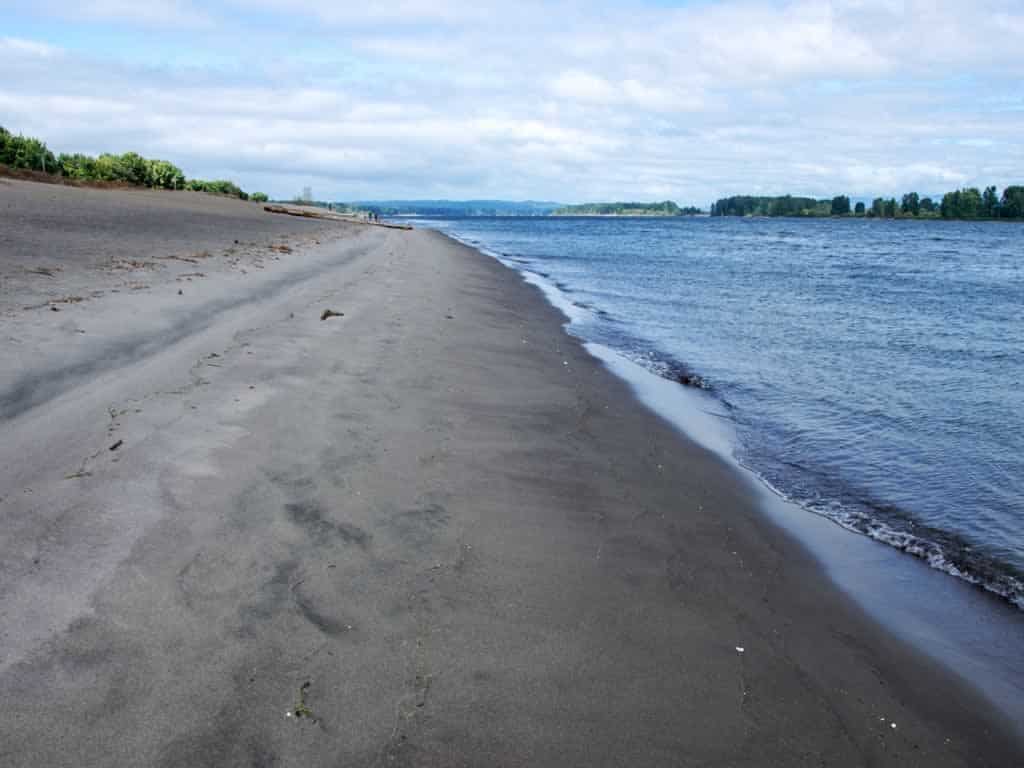 On Reeder Road, before you have time to wonder where the beaches are, you'll notice cars parked alongside the left side of the road and multiple sets of white iron stairs leading up a steep slope to the right. On the other side of that slope is the beach. Before you park, however, be sure to get a parking permit.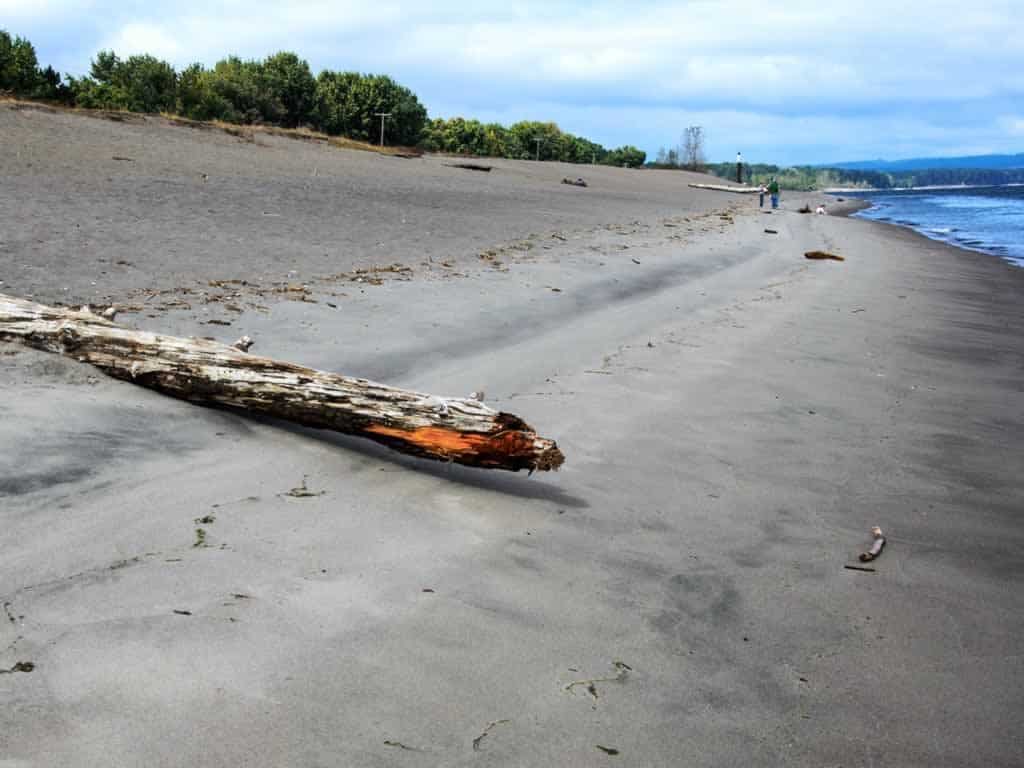 Safety
The danger with these beaches for young children and non-swimmers is that the grade into the water is steep and potentially unexpected. Sudden drop-offs are prevalent and the water can be shockingly cold. There are no lifeguards at any Sauvie Island swimming area, so safety is everyone's JOB ONE.
Every young child and non-swimmer should wear an approved life jacket while playing at water's edge. Even with a life jacket, don't take your eyes off of your children on this stretch of beach. The water is swift and time to react is short.
Rules
All dogs must be on leashes and under control of owner.
No open fires.
No motor-powered vehicles on beaches, except emergency or service vehicles.
Discharge of firearms is allowed only during authorized hunting seasons.
Hours
Sauvie Island Wildlife Area Beaches are open from 4 AM to 10 PM every day.
Cleanliness
The beaches on Sauvie Island are popular and heavily trafficked. For the most part, they're self-monitored and clear of debris. However, on occasion, you may notice piles of debris left by less conscious party goers. Take a large garbage bag, a pair of work gloves, and do a little beach cleaning while you're there. You'll feel good and if we all help, the beach will remain pristine.
Law Enforcement
Beaches are patrolled daily by Columbia County, Multnomah County, Oregon State Police, and Oregon Department of Fish and Wildlife.
The Beaches
Reeder Beach (no public access)
Reeder Beach is a private beach controlled by Reeder Beach RV Park and Country Store. There is no direct public access.
Willow Bar Beach
Location: milepost 7 on Reeder Road; turn right at the Multnomah/Columbia county line.
Beach length: two miles
Walton Beach (family friendly)
This is the main beach area, on Reeder Road, about 9 miles from Sauvie Island Bridge. Walton Beach is the longest and most popular beach on Sauvie Island. It's usually packed during the summer. Still, it's a wonderful escape from the city with its gentle waves and warm, sandy beach.
Bonus: No long trek to the water, parking is near the beach.
Location: milepost 9.8 on Reeder Road
Beach length: one mile
Collins Beach (nude beach)
This one-mile stretch of beach may as well be designated entirely (rather than partly) clothing optional, as nude sun worshipers often wander onto the non-nude north end of the beach (North Unit Beach). Nude users are supposed to stay within the posted boundaries of Collins Beach. Collins Beach is north of Walton Beach, where the road turns to gravel. It's less crowded than Walton Beach, with more trees and shady areas.
Location: milepost 11 on Reeder Road
Beach length: one mile
North Unit Beach (family alert)
This three-mile stretch of beach is frequently invaded by nude beach goers wandering across the posted boundary from Collins Beach. So be prepared to gawk or cover your eyes in horror, whichever inclination hits you first.
Location: milepost 13 on Reeder Road
Beach length: three miles.
Warrior Point Beach (no car access)
Warrior Point Beach is on the northern tip of the island. It's accessible only by foot or boat.
Location: 3½ miles from the end of Reeder Road; no car access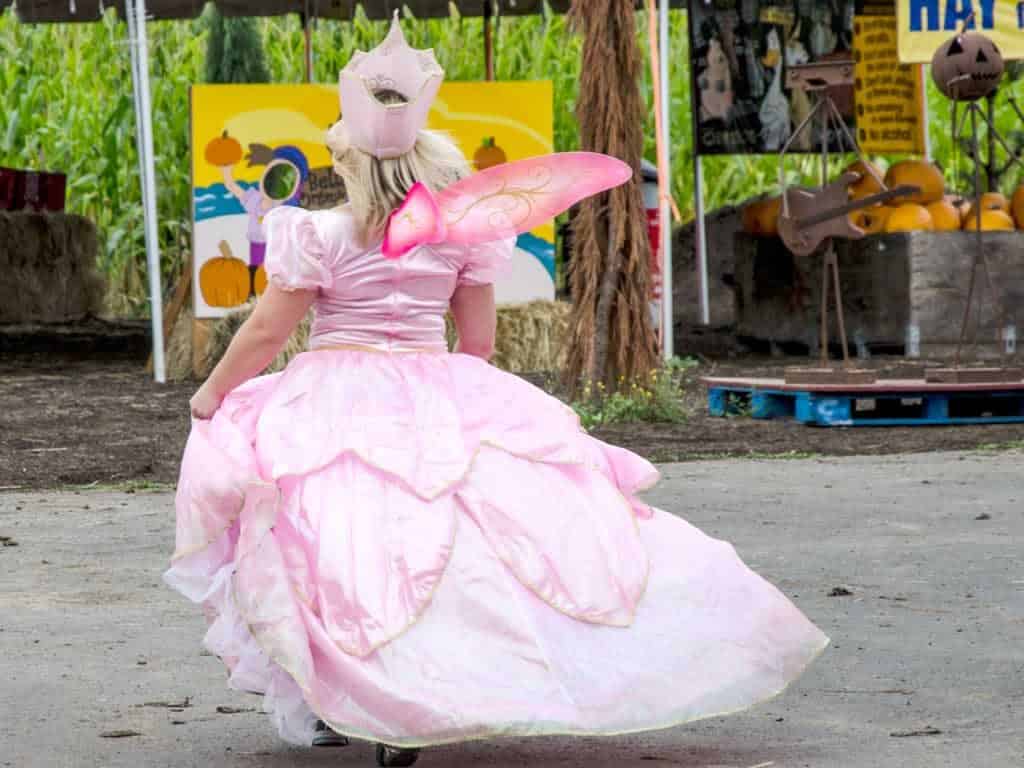 Tell Me More
Oregon Live: Sun Lovers Enjoy Sauvie Island