Beautiful, historic Oregon City hugs the eastern banks of the Willamette River on the southern edge of Portland Metro.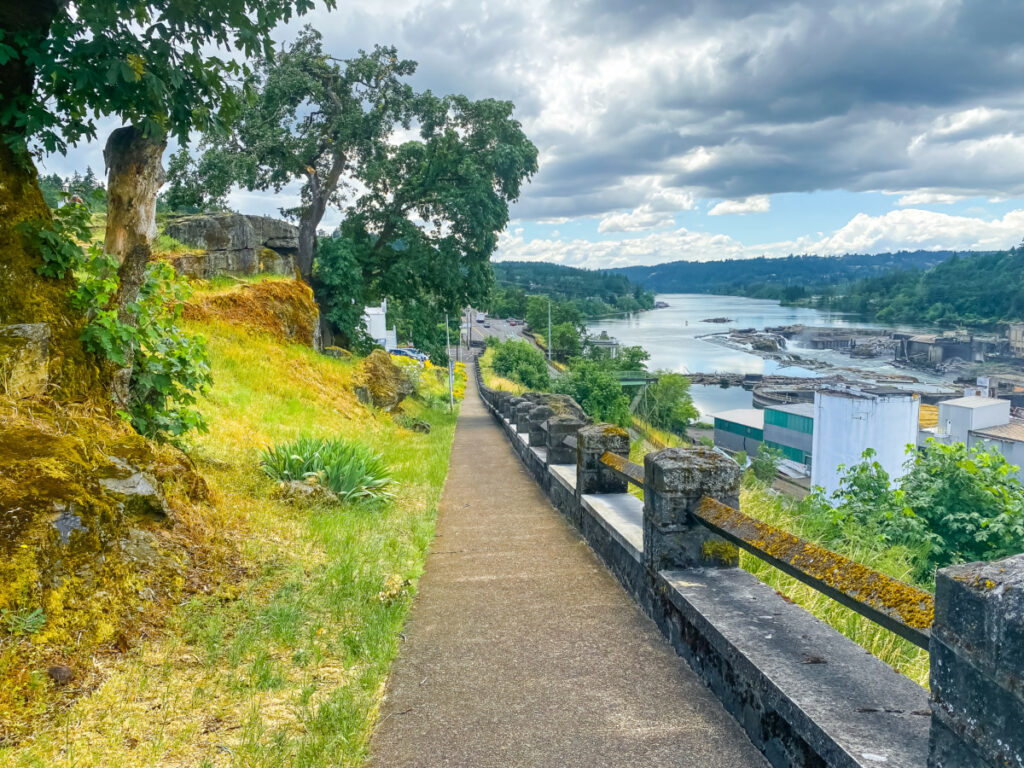 Have you been thinking about walking Oregon City? See why we love it here and then link to our custom curated, online route map below.

It's a short jaunt from Oregon City to bucolic sister city West Linn (to the west and north) and because you might want to extend your walk by a mile or two in that direction, the route to Rosemont Road, West Linn is included as an option on our sharable map below. I walk that route myself all the time.
Regardless how you get to Oregon City however, by foot or vehicle, the spectacular views from Mcloughlin Promenade high above Willamette Falls and the old paper mill make this early American lumber town a primo destination all year long, especially for camera buffs.
And because of Canemah Bluff (15 million-year-old Wanapum Basalts overlain by two million-year-old Boring lava flows), Willamette Falls, defunct and soon to be repurposed Blue Heron Paper Company, and a plethora of historic homes, Oregon City boasts one of the most fascinating Portland Metro walks ever.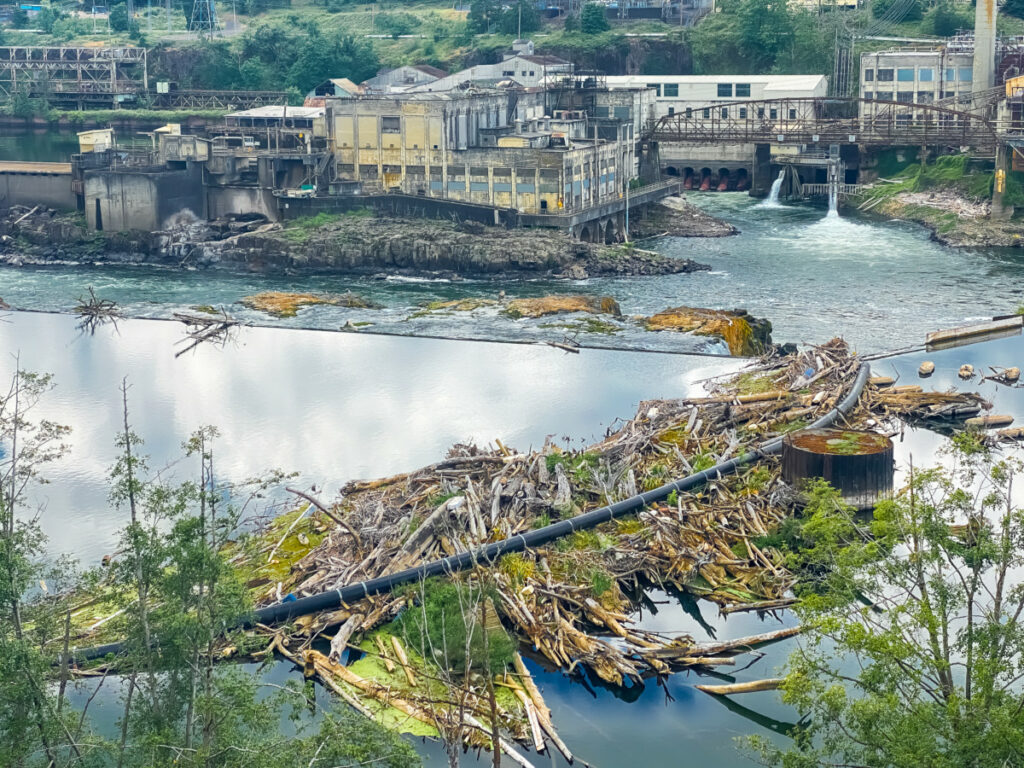 A Walk to Remember
Friends and relatives coming in from out of town? THIS is the walk they'll talk about when they return home. It will impress them even more if you know a bit of the history and can confidently host a tour of the Mcloughlin Historic District. Our route map makes that easy with marked locations and a snippet of history on each of the historic homes.
You'll also get pointers to our favorite local eateries, bars, and coffee shops in the McLoughlin neighborhood. Plug: Definitely check out The Hive Social (featuring Sister's Coffee) on 7th Street. They make a top-notch macchiato. And the pastries, well, don't say we didn't warn you.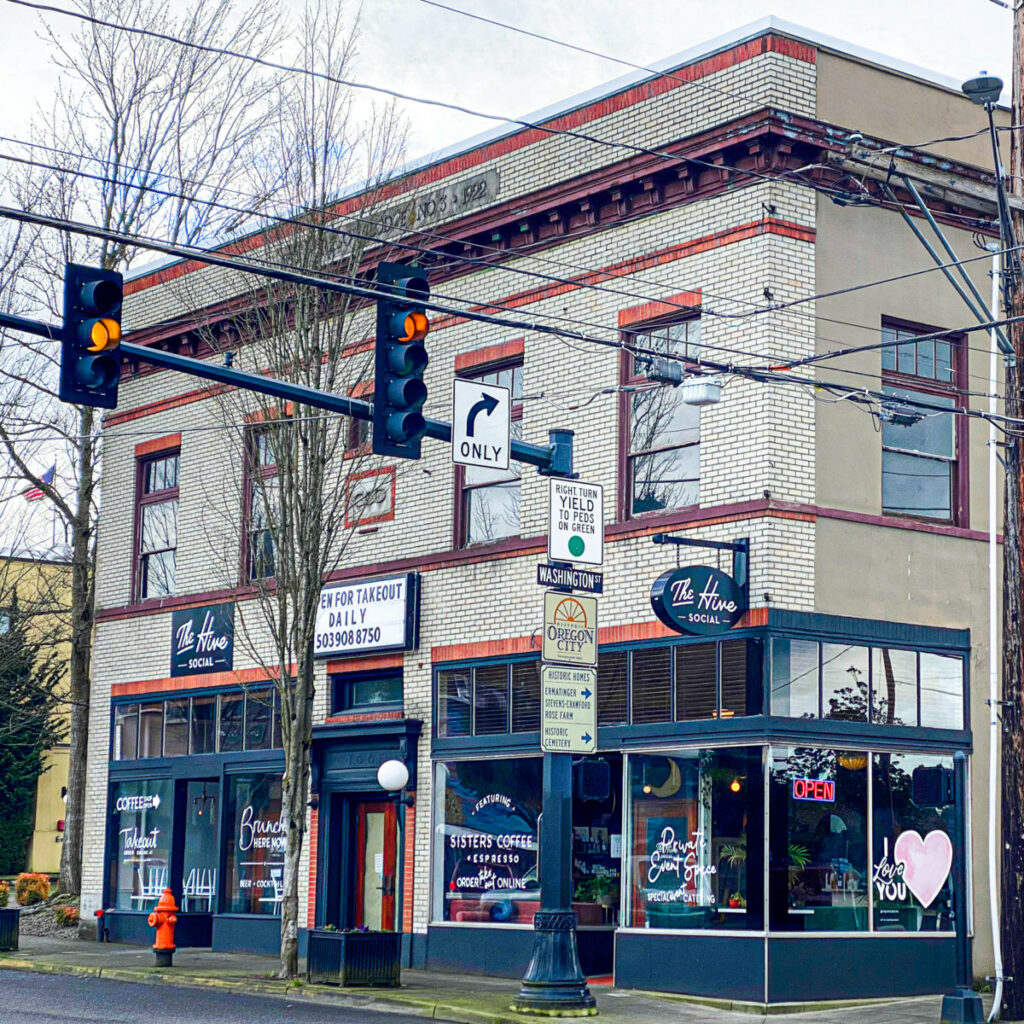 A Bit of History
By 1814, both the North West Company and the Hudson's Bay Company regularly trapped the lower Columbia and Willamette Rivers. The settlement, which became Oregon City, was originally known as Willamette Falls. Officially established in 1829 by the Hudson's Bay Company, in 1844 Oregon City became the first U.S. city west of the Rocky Mountains to be incorporated. It was also the first territorial capital of Oregon. Today Oregon City encompasses nine square miles and is home to 35,000 residents.
Oregon City Neighborhoods
There are twelve official neighborhoods in Oregon City, as indicated on the map below. This walk meanders through the river-hugging McLoughlin neighborhood (in gold below).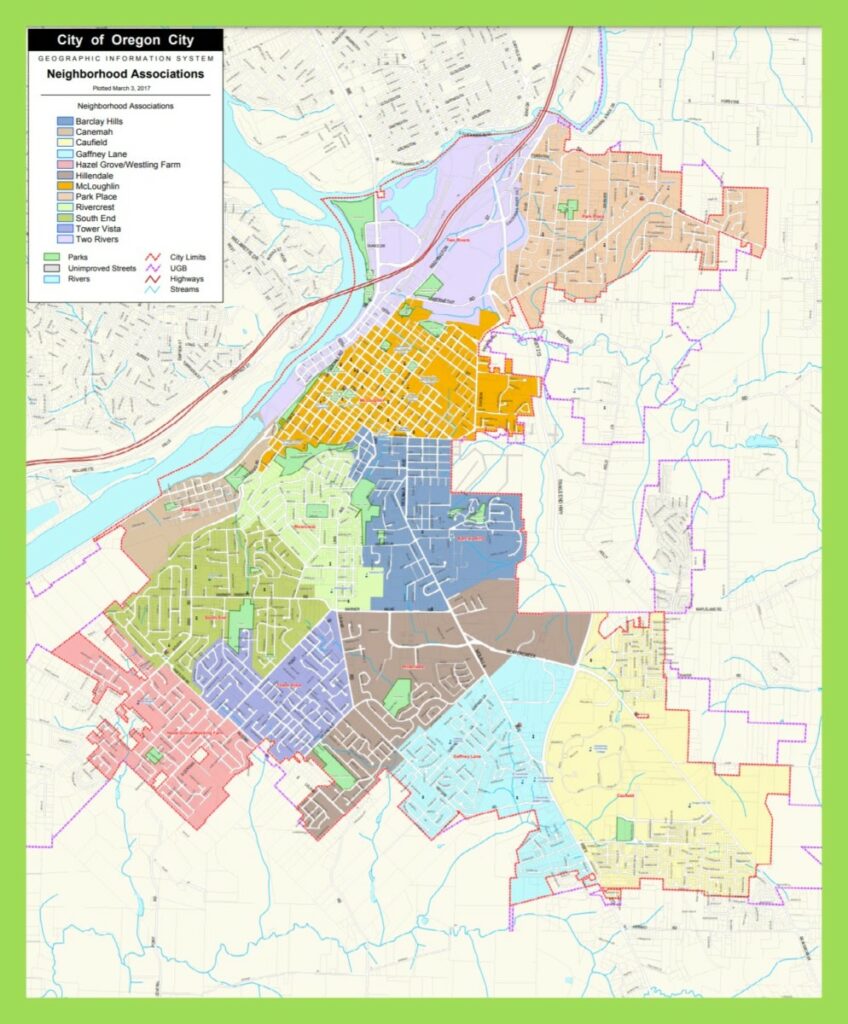 Historic Homes
Historic homes abound in this early American city but are most heavily concentrated in the McLoughlin Historic District. The online walking map below includes the house name, address, date built, and architectural style. We will continue adding photos for each home as well, to make it easy for you to spot them as you walk.
Oregon City Arch Bridge
The 745-foot Arch Bridge, sometimes called Willamette River Bridge, provides pedestrian, bicycle, and vehicle passage over the Willamette River, connecting West Linn and Oregon City communities.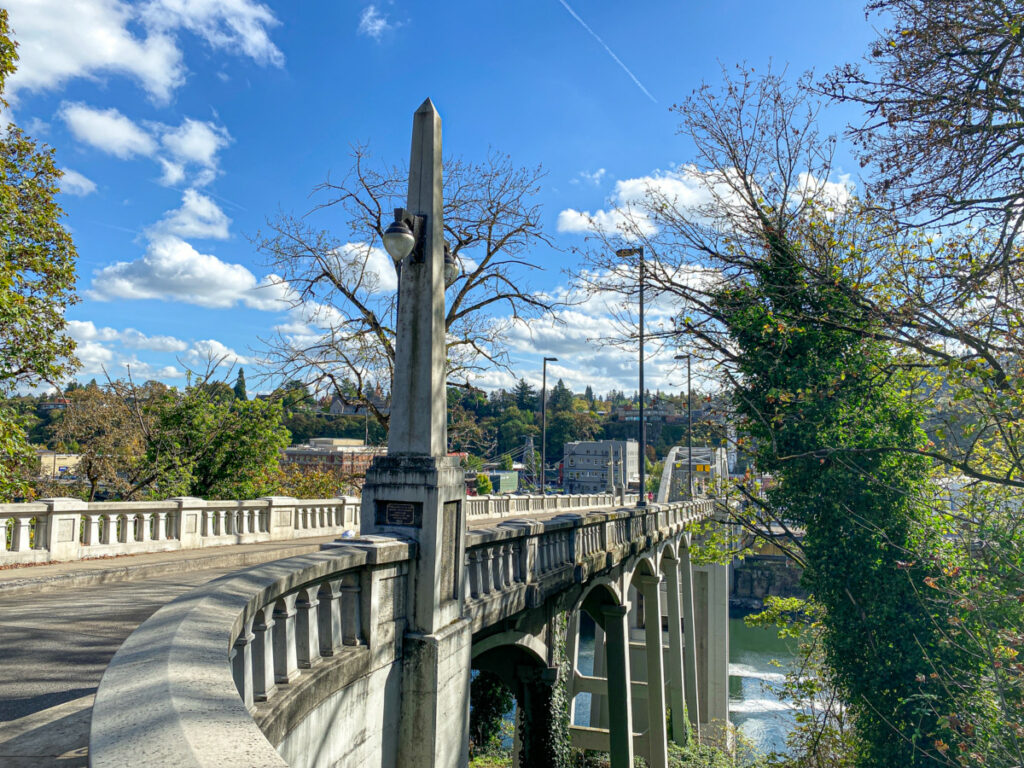 The 1921-1922 Biennial Report of the Oregon State Highway Commission praised this bridge as "the most artistic appearing large bridge in the State."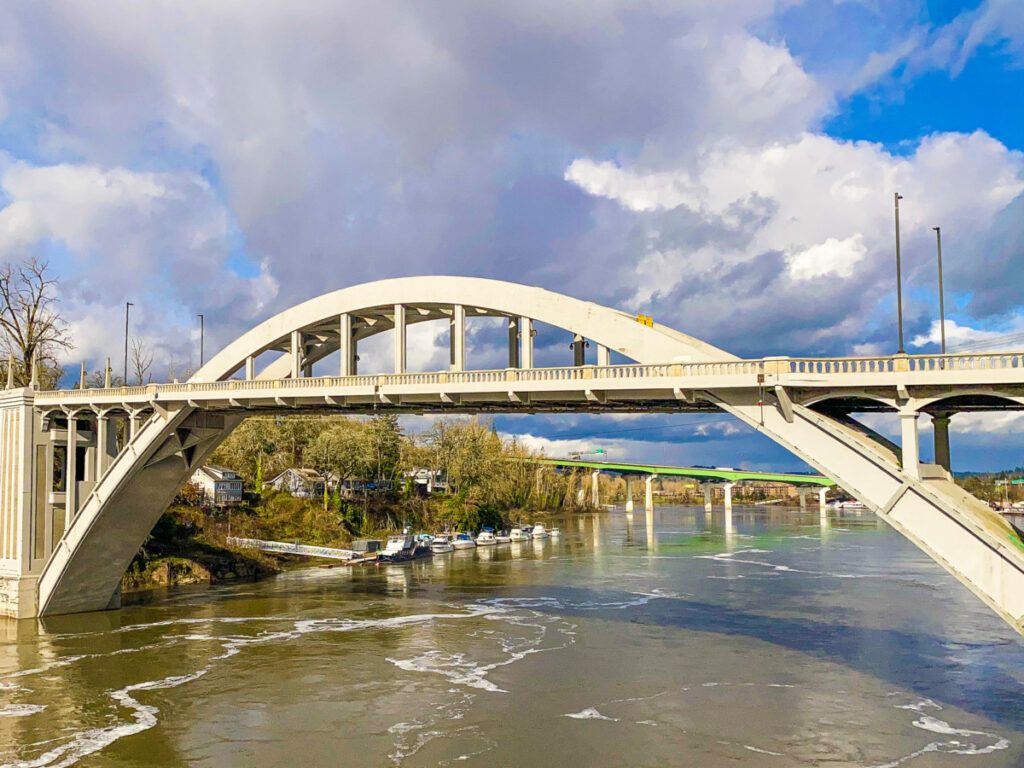 The views from this bridge are definitely eye popping. I loving hanging out on the pedestrian walkway capturing the patterns in the water created by upstream Willamette Falls.
Oregon City Municipal Elevator
Even if you don't plan to walk McLoughlin Promenade above Downtown Oregon City, the view from the observation deck of this iconic elevator is well worth the short ride up. It's open seven days a week, morning to evening, and it's FREE.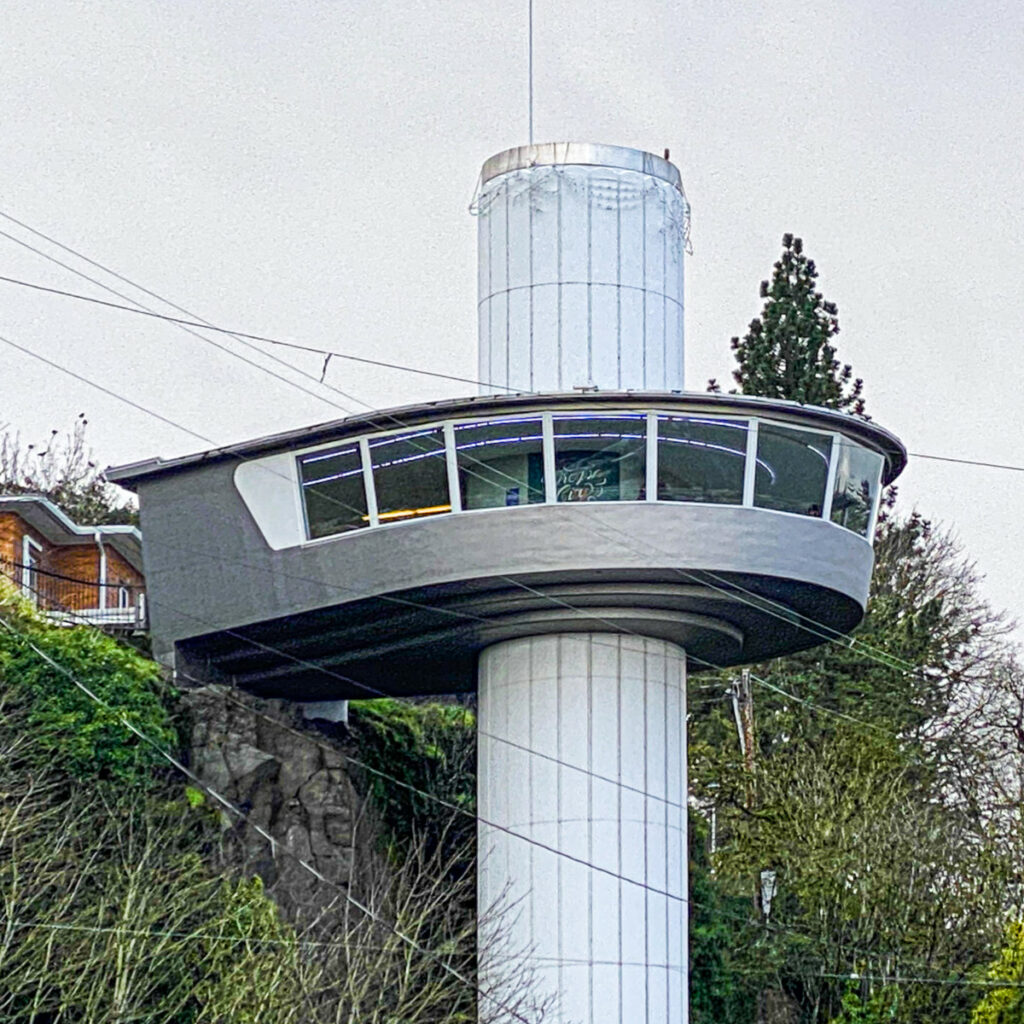 This 130-foot elevator connects Oregon City's Old Town and Historic McLoughlin neighborhoods. The upper portion houses the observation deck, which produces the flying saucer effect. The only elevator of its type in the United States and one of only four such elevators in the world, the current municipal elevator was completed in 1955 and was added to the National Register of Historic Places in 2014. The original water powered elevator was built in 1915.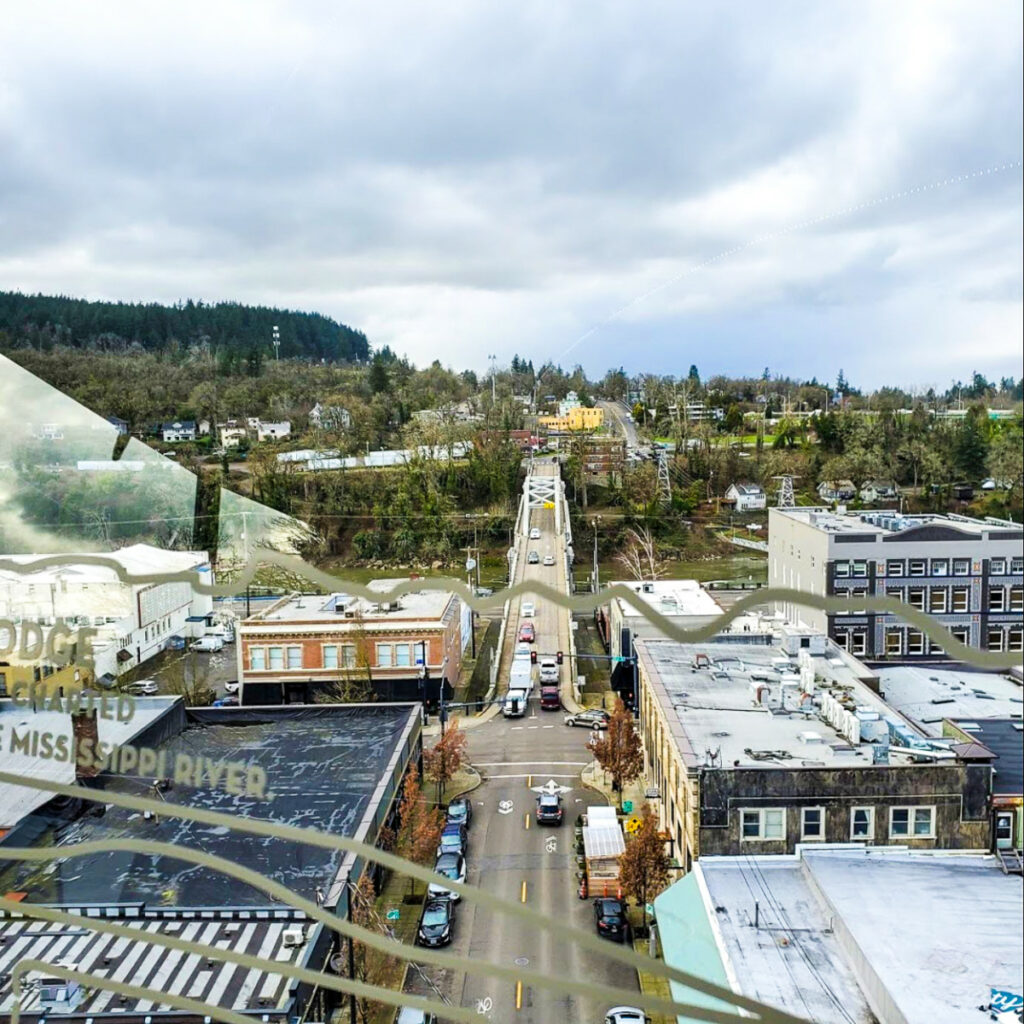 If you're elevator adverse or beyond the hours of operation, simply take the waterfall-lined steps to the left.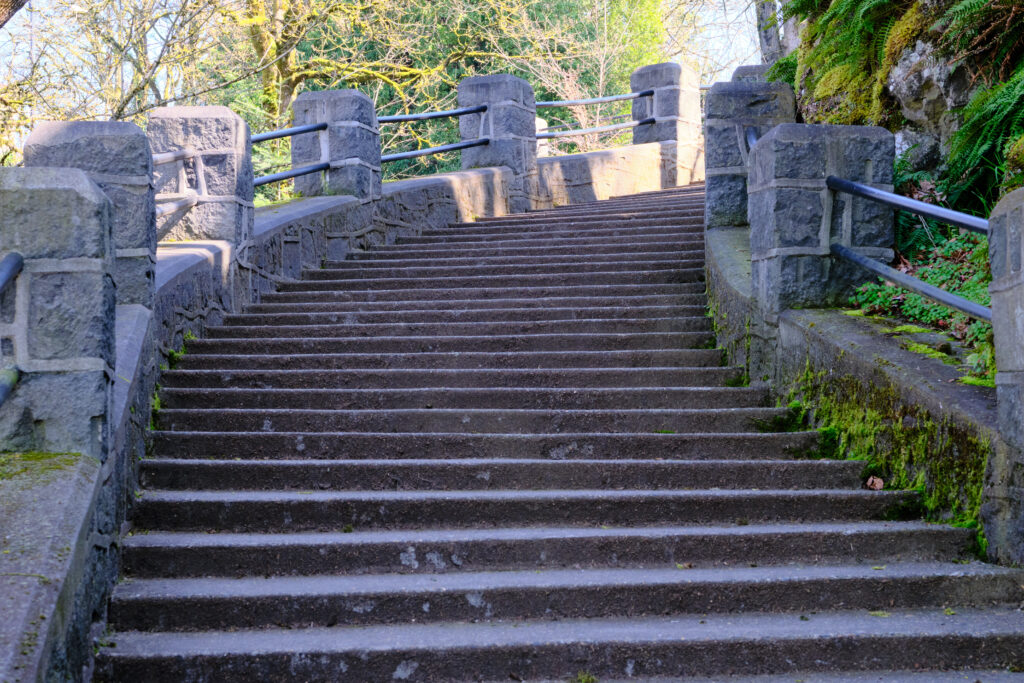 Mcloughlin Promenade
THIS is the reason I trek to Oregon City nearly every week of the year. This walkway high above the river, bordered by historic homes, gardens and mature trees is a photographer's dream come true. It's a tranquil walk too, with several grassy areas perfect for noshing or chatting with friends.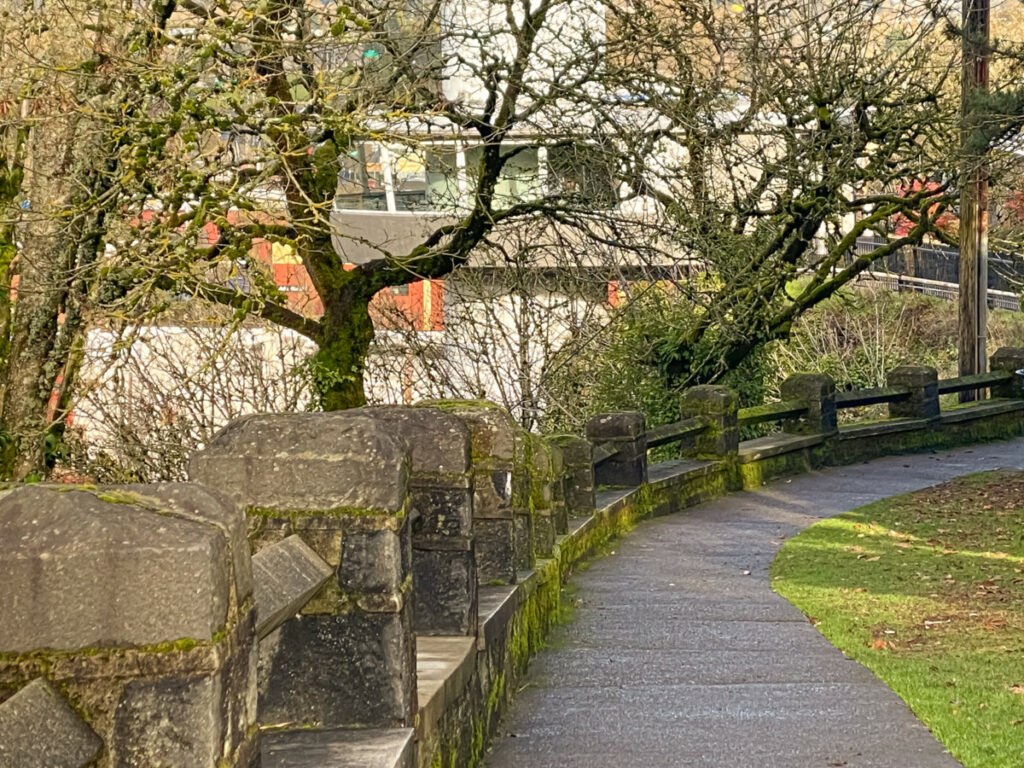 You can enter the Promenade from the top of the Municipal Elevator or from High Street, which it abuts.
Grand Staircase
Getting from McLoughlin Promenade high above the river to Willamette Falls below involves crossing heavily trafficked McLoughlin Boulevard. The easiest way to accomplish this is to use Grand Staircase. The metal stairs are narrow and steep though so hang on to the railing as you descend.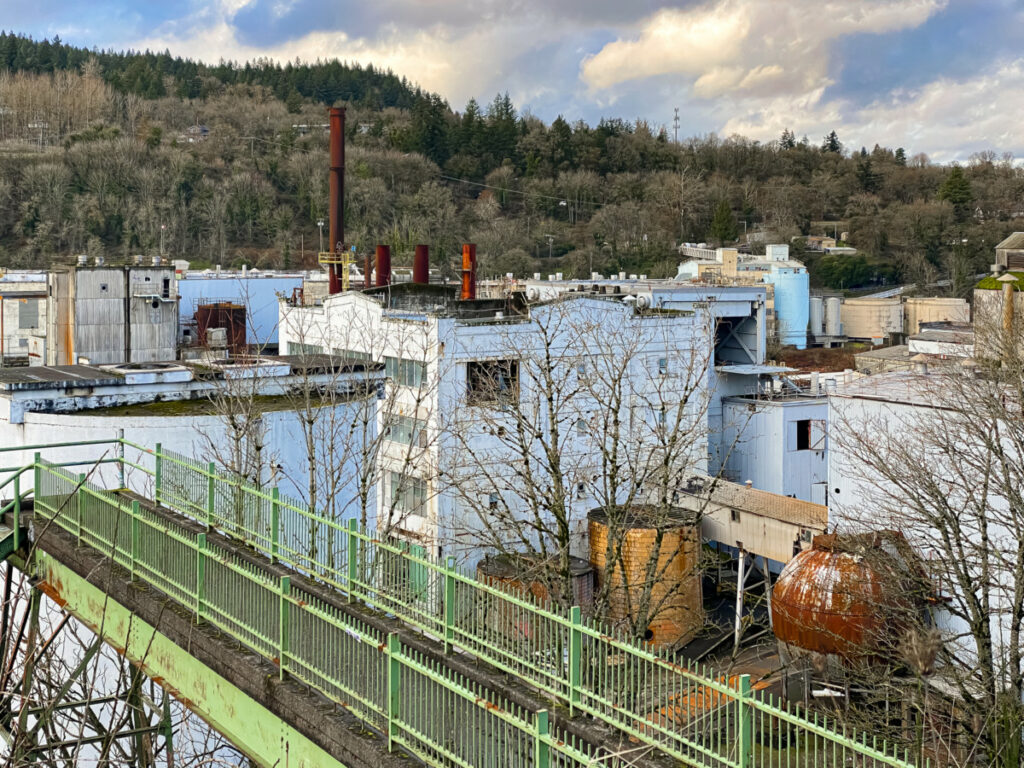 McLoughlin Historic District
The McLoughlin Historic District is home to 305 "architecturally or historically significant properties." There are 200 additional buildings of lesser significance within the district boundaries that due to age and architecture add to the historic character of the district.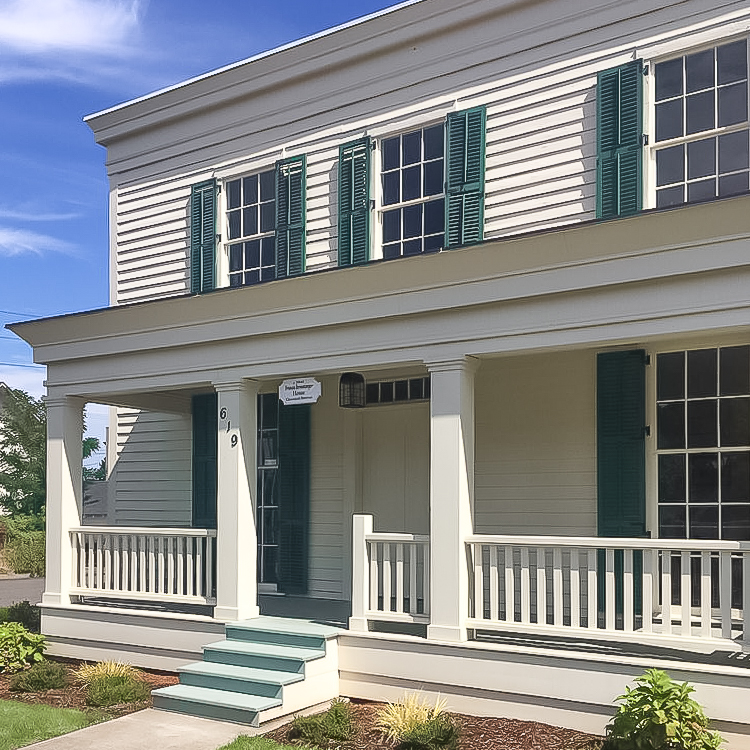 In 1982 the McLoughlin neighborhood sought designation as an Oregon City Historic Conservation District on the National Register of Historic Places. This designation was granted in 1986.
18 Must See Historic Homes
It's an ongoing adventure locating and photographing the historic homes in the Mcloughlin Historic District. Here are eighteen beautiful examples noted on the walk map:
Dr. Forbes Barclay House (1850)
Classical Revival Style
719 Center Street
Charles David Latourette House (1882)
Queen Anne/Victorian Style
503 High Street
Capt. John C. Ainsworth House (1851)
Classical Revival Style
19195 South Leland Road
Charles C. Babcock House (1892)
Queen Anne Style
1214 Washington Street
DeWitt Clinton Latourette House (1891)
Queen Anne Style
914 Madison Street
Dr. Forbes Barclay House (1849)
Style TBD
719 Center Street
Elizabeth Clark House (1930)
Georgian Style
812 John Adams Street
Erwin Charles Hackett House (1893)
Queen Anne Style
415 17th Street
Francis Ermatinger House (1843)
Classical Revival Style
619 6th Street
George Lincoln Storey House (1900)
Queen Anne Style
910 Pierce Street
Hiram A. Straight House (1856)
Classical Revival Style
16000 S. Clackamas River Drive
James Milne House (1869)
Carpenter-Gothic Revival Style
224 Center Street
Judge Harvey Cross House (1888)
Italianate Style
809 Washington Street
Dr. John McLoughlin House (1846)
Colonial Revival Style
713 Center Street
Morton Matthew McCarver House (1850)
Classical Revival Style
554 Warner Parrott Road
Richard Petzold House (1911)
Craftsman Style American Foursquare
504 6th Street
Stevens-Crawford Heritage House (1908)
American Foursquare
603 6th Street
William L. Holmes House (Rose Farm) (1848)
Colonial Revival
536 Holmes Lane
Mcloughlin Walking Map
Here's our custom-curated, regularly updated walk map. In Google Chrome, bookmark Walking Oregon City: Rosemont, McLoughlin Promenade, Historic District, Old Town and then open on your iPhone to follow turn-by-turn directions as you walk the route.
TIP Because the phone screen is narrow, toggle back and forth from Map View on the right to Legend on the left for turn-by-turn directions. Also, to make the route easier to follow, simply uncheck any sections that you aren't interested in, such as Eats or Coffee. You can always recheck later to open.
Distance
About 5 miles.
Time
This walk is best enjoyed at a leisurely pace. Allow 2 hours for walking and gawking. And extra time if you want to nosh and shop.
Terrain
Optional elevator, city sidewalks (some uneven), paved trail, multiple stairways, and pedestrian tunnel.
Difficulty
Fairly easy.
There's More
Looking for more fabulous route maps? Check these out.
Portland Metro Walkabouts
The SkyBlue Portland Real Estate Team hosts monthly group walks through some of Portland Metro's most beautiful and interesting neighborhoods.
For info on our monthly Walking Portland group walks, check out our Facebook page, Women Who Walk (@pdxwomenwhowalk).
And join our monthly meetups: PDX Women Who Walk and West Linn Women Who Walk.